Shop Spring Fashions at The Village of Rochester Hills
Spring is right around the corner and so are the latest spring fashion trends for the 2023 season. Trends range anywhere from pajamas to runway inspired looks, and every outfit in between. Whether aspiring to be a trendsetter, or just looking for a wardrobe update, The Village of Rochester Hills has all the stores to complete any look.
According to teenage girls' fashion magazine, Seventeen, some of the best spring 2023 fashion trends for women include maxi skirts, "western Y2K", floral and polka dot patterns, and low-rise or fold-waisted jeans. Some men's fashion trends according to Vogue France, for spring 2023, include the "biker" look, blue jeans, cargo pants, and the "Skater boy" look. The best places to shop these styles at The Village include:
American Eagle
American Eagle (AE) has many choices when it comes to cargo pants/shorts for men. With many styles, sizes, and designs, shoppers are sure to find one that matches them. Along with cargo shorts, denim shorts are also popular at AE. Ranging in different washes and lengths, these shorts would look great on any man paired with a plain t-shirt. For women, many low rise jeans are being paired with colorful crop tops for a perfect summer style. There are also floral flare jeans available just in time for spring!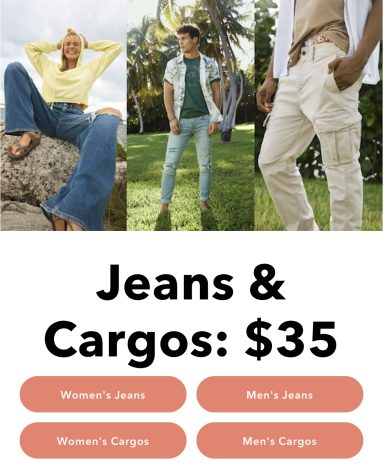 Aerie
Arie is the "sister-brand" of American Eagle, however, they sell different items and styles of clothing that's not found in an AE store. For example, polka dot and neon color bathing suits are on sale starting at $20. Aerie strives for comfort while still being "in style" by selling clothing such as leggings, sweatshirts, and sweatpants. Known mostly for its leisure and athletic wear, the quality is definitely worth the price tag.
"All the clothes are very comfy. There are a lot of leggings, crop tops, and swim suits available, especially in floral patterns," explained Sales Associate and Adams student Lucy Lee.
Dry Goods USA
Dry Goods is constantly getting new shipments of the most popular clothing, so it's no wonder why they are so updated on trends. They have a large selection of western Y2K in various hues of pinks, yellows, creams, and grays. Pair Eunina Tana Low Rise Boot Cut Jeans or the Mia Metallic Distressed Cowboy Boots with graphic tees, with sayings such as "yeehaw" and "let's go girls", combinations perfect for shoppers for the next country concert. As for floral patterns, pieces such as kimonos and skater dresses are prevalent for the spring season.
Francesca's
While mostly being known as a small boutique, Francesca's clothing is reasonably priced and equally as stylish. New arrivals have just dropped, including spring dresses perfect for Easter and "rodeo ready" styles. Mostly maxi designed, though some mini, dress patterns range from solid colors to bold floral patterns. As for country themes, pearl embellished cowboy hats and boots paired with a graphic tee and flare jeans will definitely be seen at country music concerts this summer.
"It's a lot of spring dresses, including the "dress shop," which consists of floral dresses and jackets to match," said Keyholder and Adams student Alana Stiemel.
Whether shoppers are aspiring to become the best dressed cowboy or cowgirl, biker, or flower queen, there is a store for all. Plan a trip to The Village of Rochester Hills to shop spring styles now before they are gone!