Is High Fashion Overrated?
Just last week, "A-list" celebrities and influencers walked through the most awaited red carpet of the year, The Met Gala, an annual charity ball—held by Vogue's Anna Wintour—that raises money for the Metropolitan Museum of Art's Costume Institute. Known for its themed dress codes, the gala took on the honor of representing fashion designer Karl Lagerfeld this year. 
The Met Gala has become an internet phenomenon over the years, generating criticism from individuals across the web. From social media influencers to fashion critics, it's safe to say that attending the Met Gala puts celebrities on a spectacle. On YouTube, creators annually check in to review the year's unique fashion looks. Meanwhile on Instagram, influencers fill their stories with polls, settling unpopular fashion opinions within their fan bases.
Every year, it seems like the Met Gala's outfits are getting increasingly more eccentric, and at some point, the fashionability behind them has to be questioned. 
At last year's Met Gala, the talk of the night was Blake Lively, as she unraveled her dress to reveal a beautiful teal tone that matched the carpet. And except for Lizzo's flute performance and Jared Leto's twinning moment with Alessandro Michele, things didn't get too wild on the carpet. 
This year, however, limits have escalated and celebrities seem to be unafraid of making a statement. 
Taking after her stage name, American rapper and singer, Doja Cat, dressed as Lagerfeld's cat, Choupette. Using prosthetics, Doja's face was shaped into that of a cat, making her almost unrecognizable.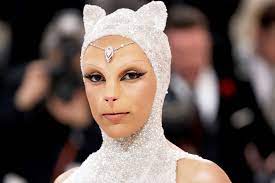 But that's not where the cat phenomenon ends. Similarly, Jared Leto, American actor and musician, also dressed as Choupette, taking the costume to higher extremes. Arriving on the carpet in a fursuit, Leto definitely stood out among the rest.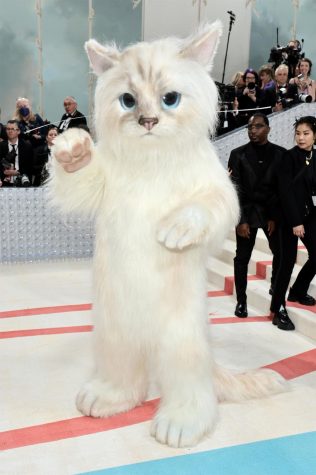 But as celebrities continuously outnumber their previous gala looks, where is the line drawn?
By the Britannica Dictionary's definition, fashion is " a popular way of dressing during a particular time or among a particular group of people". So conventionally, there is nothing wrong with the outfits celebrities chose to wear to the gala.
However, Courtney Love—Lagerfeld's personal friend—begged to disagree. On May 3, she took the matter to Twitter, quoting a hypothetical conversation she and Karl would have about the gala if he were alive:
"KARL: 'Courtney, WTF was that Met ball?' Me: 'Total disrespect for your legacy. Oh and BORING,'" she tweeted. 
"KARL: 'Ffft. I'll be waiting on the other side with my cat & THE AXE! Anna. The axe!'" said Love.
"These dudes do not abide," she added, featuring a picture of her and Karl with a clown emoji. 
Although celebrities use the Met Gala as a form of self-expression, critics and viewers are watching from every angle, ready to pounce with criticism. While it may be a fun opportunity to play around with fabrics, it represents much more and attendees should be aware of that.
The Met Gala isn't just a red carpet anymore, it's a chance to honor art and design.