Since social media has existed, taking care of your skin and face has been the topic of many trends. The pursuit of flawless skin is prominent in today's age, and skincare rituals are a habit shared by many. Yet in the last couple of months, influencers have turned these trends negative and caused harmful consequences to well-intentioned trends. 
Skincare trends carry an extensive amount of popularity and have reached millions of viewers. With the skincare hashtag having over 113 million posts on Instagram and 66.9 billion views on TikTok, it is evident that videos under this category have an influence on many people. 
These trends are mainly positive; creators share what products helped them and what did not. They show how to apply products correctly, and they format the videos in an entertaining and aesthetic way. 
Recently, some movements have surfaced that have many people concerned. The nature of what used to be wholesome skincare videos have shifted to be intense and untrustworthy. In a frenzy to cure every skin ailment possible, social media has begun to encourage the use of many new products to an extreme amount. 
Trends include using harsh products such as Retinol, microneedling on the face, and intense exfoliation.   
Although retinol makes skin soft and non-textured, exfoliation gets rid of dead skin cells, and microneedling stimulates collagen production, there might be unknown negative effects of using these products. Is this being pushed in a way that will damage teenagers' relationships with their skin?
It became clear how these trends are being advertised as necessary to use when videos started popping up of young girls using these products on their skin. Videos have surfaced all over Tiktok of elementary school-aged girls having a full routine, or even their moms doing the routine for them.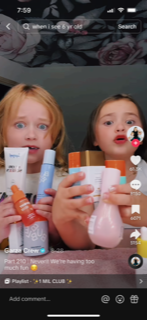 Products like retinol can be very damaging when used incorrectly or on underdeveloped skin. When using such intense chemicals on young skin, it can stop the development of new skin cells. 
"I started using acne products in fifth grade. And now my skin barrier is basically gone. I'm scared for them," said TikTok user @ph.ilocity about young girls who have already started retinol. 
Other regrettable effects include infections from microneedling, skin tears from exfoliation, or inflammation when the two are mixed together. 
Many products can also cause irritation or worsening of the condition if used on the wrong skin type. When social media users blindly follow an influencer's opinion without extensively researching the product, it can sometimes lead to the opposite effect that was intended. 
The desire for teen girls to have a routine like this can also feed into a negative self-image.
Most skincare trends stem from the desire to prevent aging and textured skin. Beauty standards can be unrealistic and unattainable but are advertised as something that can be achieved with a simple face wash or toner. When young girls are taught to believe that these naturally occurring symptoms of life are something to be ashamed of, it leads to lower self-esteem.
"The constant exposure and engagement with social media platforms have been linked to various mental health issues, including eating disorders, low self-esteem, and other issues," said Chelsea Hetherington, an expert on social media's role on mental health. 
It is safe to say that this has gone too far. When trends are both mentally and physically damaging, influencers need to take a step back and change what they are putting in their videos.