From child star to pop music sensation, Olivia Rodrigo has become a force to be reckoned with in the music industry. Rodrigo released her second album, Guts, on September 8th, and gained insurmountable support from fans and critics. 
Prior to releasing her debut album Sour in 2021, Rodrigo starred in the Disney+ original show "High School Musical: The Musical: The Series." During her time on the show, Rodrigo wrote her song "All I Want," which was performed by her character in the show's first season. The song was a breakout hit for Rodrigo and ultimately pushed her to part ways with the show to focus solely on her music career. 
Since then, Rodrigo has released two critically acclaimed studio albums: Sour and Guts. While Sour was a pop-based album filled with heartfelt ballads, Guts has more of an alternative sound, giving the album an extra layer of angst. 
Rodrigo released "Vampire," her first single for Guts, on June 30, 2023. The song received overwhelming praise from critics and topped charts in Australia, Canada, Ireland, New Zealand, the United Kingdom and the United States. The song is Rodrigo's third chart-topping single. 
"Vampire" was the perfect choice to kick off the Guts era. Since it's been two years since Rodrigo's last album, "Vampire" was a way to remind her audience of the talent she possesses as a singer and songwriter. The song is a metaphor for Rodrigo being taken advantage of and "bled-dry" by a past relationship. While the song has a similar sound to "Drivers License," the debut single of Sour, "Vampire" delivers an exhilarating and gut-punching beat that perfectly establishes the vibe of Guts as a whole. 
The album is filled with punk anthems and passionate songs, each song telling a different story about life as a teenage girl. Stories of heartache, love, friendship, jealousy, anger, and embarrassment are all themes interwoven into each track of the album. Songs like "Ballad of a Homeschooled Girl" and "Love is Embarrassing" lyricize the shared feelings of fear and self-consciousness in young girls over fun and upbeat melodies.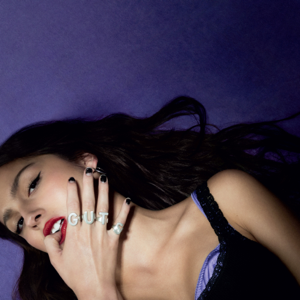 However, not all of these emotional lyrics are disguised. The final track of the album, titled "Teenage Dream," is a heartbreaking song that outlines the fears and emotions that come with growing up. The song has strong verses and a powerful bridge, a perfect finish to the album. 
Compared to Rodrigo's precedent album, Guts takes a more aggressive approach. In Sour, Rodrigo had more overtly sorrowful songs, while Guts has a higher number of songs that are upbeat, while still generally having a deeper and sadder meaning. Both albums from Rodrigo have a comparative level of depth in the lyrics and melodies. 
Overall, Guts is a beautifully written and complex album. The songs fit perfectly together and each tells a different story under a similar theme. Rodrigo has created an album that perfectly proves that fans can expect even more great things from her in the future.