Rochester Adams Cheerleading: Are They Ready?
The Rochester Adams Cheerleading team is coming off an outstanding season. Last year, the Highlanders were extremely close to achieving a state title, but could not outdo Stoney Creek. This year, the Highlanders hope to still have the same drive to take them to the top.
The cheerleading program at Rochester Adams has been extremely successful over the past few years. In 2018, The Highlanders achieved numerous wins including a state runner-up title for the first time since 1996 and a district title. In 2019, these girls had a very eventful season. From receiving nothing less than second place, to winning the OAA League Championships, then receiving a second place trophy at state finals. But this year, this team wants a different outcome. They want the title.
These twenty-four athletes spent numerous months in the off-season just to prepare themselves for the 2019-2020 competitive season. Now, these ten upperclassmen are ready to lead this team to the top. 
"After being a part of this team during a period of insane improvement for the program, I want to say that I played a role in the improvement of Rochester Adams Cheerleading. My freshman year was Adams cheer's first year making it to the state finals in twenty years. During my sophomore and junior year, we finished second in the state, meaning that there is one more title I want to see our team achieve," said senior Katie Crowe.
The girls are also looking forward to the positive bonds between other cheer teams. Many love the bond they share with every single teammate and competitor.
"I want our team to be known for our compassion and support towards other teams. There is more to the sport than just winning. I believe that friendships last longer than medals," said senior Lyndi Harmon.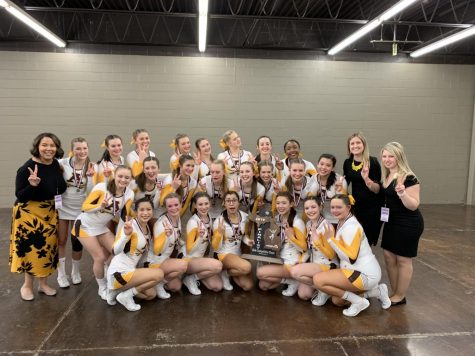 In 2019, these girls had an outstanding record, with five wins and three second place finishes in the regular season. By accomplishing this, it made their season extremely successful. Even though it wasn't the outcome that they preferred, many of the girls are going into the 2020 season with a brand new mentality.
"We are going into this season with a new mindset; that we want more than second place this year. We want our hard work to pay off," said junior Carly Schultz. 
As the 2020 competitive season begins to approach, this team is preparing themselves every single day to become better. The Adams Varsity cheerleaders are ready to give it their all and hope that the hard work will pay off in the end.