Lady Highlanders Are Back on Top
The Lady Highlanders are back on top after many previous losses in the new year.
On February 2nd, Rochester Adams cheer competed at the Lake Orion Invitational. Knowing that this was going to be a difficult competition, the team was filled with passion to prove that they are the team to beat this year. With Stoney Creek leading the way after the first two rounds, Adams quickly took control in the final round with Adams finishing in first.
The Highlanders had a tough time in the new year. Since losing the past three competitions, the team is now motivated to win Saturday's competition.  
"We have had a rough couple of weeks. No team is ever perfect, but these past three weeks made us realize that if you want something, you have to work hard for it," said senior Riley Lila.
Earlier in the season, the Highlanders were undefeated and winning every competition they attended. But in the new year, the Highlanders were struggling to keep the top spot.
"It's extremely hard coming from a winning streak, then all of a sudden losing. But this made us as a team to come together and push hard for the competitions that are going to matter," said junior Melina Catenacci.
The final outcome of the competition was Rochester Adams finishing first, Rochester second, and Stoney Creek third.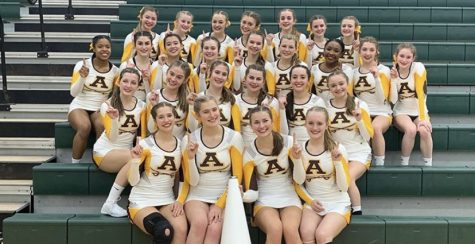 In three weeks, Adams will battle the best of the best for a district title and have a shot to qualify for the regional championships. In 2018, the Highlanders won their first ever district title. Now, Adams wants the title more than ever.