Claiming the City
The Rochester Adams Boys Basketball Team went head to head with crosstown rival Rochester Falcons on Tuesday, February 4th, and it was a game to remember. 
The Highlanders were coming off of a one point win against Stoney Creek just three nights earlier, but now it was time for the real rivalry. This rivalry between Adams and Rochester has been ongoing for years. Both schools have played each other since the start of Adams High School in 1970. 
"Rochester is our number one priority every year; that's the game everyone wants to win no matter what," said senior Jack Santella. 
Regardless of the records, both teams come out and play their hardest every year. 
What makes this game so intense is the history of the rivalry going back years. Regardless of each team's current season record or the overall record of the rivalry, the players know what's on the line; bragging rights for another year. 
The game went back and forth for most of the first half; neither team could jump out to a big lead. By halftime, the Falcons were leading by two. The game remained close throughout the second half. Senior Peyton Prieskorn was scoring with ease, and by the end of the third quarter, he already had 20 points. The fourth quarter went back and forth. Both teams trying to gain momentum. It was tied late in the fourth quarter, 43-43. Senior Peyton Prieskorn had a go-ahead score with 50 seconds remaining, but the Falcons came right back down and scored. The Highlanders had a chance to win with three seconds left to tie the game, but the shot missed. 
The game then headed into overtime. Overtime was a nail-biter, with both teams scoring fast. Prieskorn hit a free throw to put the Highlanders ahead by one point with five seconds left. The Falcons tried to get a shot off to win the game but turned it over before they even had a chance to shoot. 
The Highlanders went on to win for the second year in a row against the Falcons, with a final score of 48-47. Senior Peyton Prieskorn led all scorers with an outstanding 28 points for the Highlanders.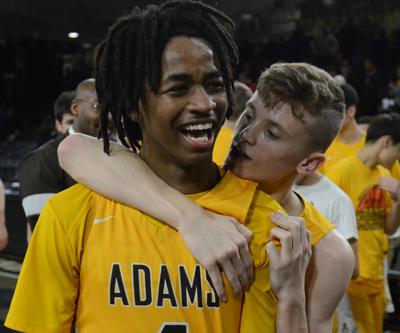 "Coach gives me the green light whenever the team needs us to win, and tonight was no different," said Prieskorn.
The Highlanders will play against the Troy Colts Friday, January 31st at home.