Favorite winter activities in Rochester
The winter time is lively and eventful as many people start getting into the holiday spirit and venturing out of the house to take part in all of the different activities. With the snow comes sledding on the massive hills in Bloomer Park, drinking hot beverages downtown while enjoying the lights, or going to exciting festivities such as the Fire and Ice Festival. This time of year, many students at Rochester Adams High School become excited for the new local outdoor activities available that come with the first snowfall. On the other hand, for some students the winter means frivolous cold and many nights spent studying inside.
Students at Adams have differing opinions on whether it is more enjoyable to stay inside and warm, or to go out and take advantage of the snowy weather in the winter months. It is undeniable that the idea of staying inside in the comforts of the home is appealing, but some students like junior Evan Chang agree that spending time outdoors in the snowy Rochester weather is exciting and entertaining.
"I enjoy the snow and nothing is better than an entire day spent sledding at Bloomer Park outdoors with my friends," said Chang.
Although there is a large variety of winter events in Rochester, some activities such as skiing and snowboarding are not available here. Many students like sophomore Elain Xu love going to Boyne Highlands and Pine Knob to enjoy these fun winter activities in the midst of the snow.
"The winter time is fun and exciting because I get to go snowboarding with my friends and family," said sophomore Elain Xu.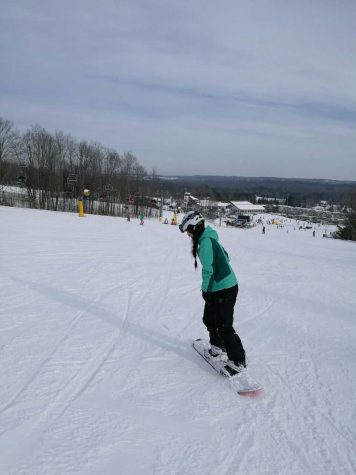 Along with skiing, sledding, and snowboarding there are many other ways for people to spend their free time during the winter months in Rochester. On a cold day, spending an evening downtown while enjoying the lights, or heading to Dessert Oasis to enjoy a hot beverage can be a savorable event.
"I mostly like to stay in because I love my blankets, but when I do go out, I like to go sledding and get hot drinks in stores such as Starbucks and Dessert Oasis," said sophomore Lily Shuttlewood.
As fun as it is to go out in the beautiful nature of Rochester, some students at Adams prefer staying inside when the winter season comes around. Venturing out into the brisk cold of winter can be very unappealing, and many people opt for the idea of staying inside, warming up in some comfy blankets, and watching movies with a hot beverage.
"I prefer to stay inside and drink hot chocolate, wear pajamas, and watch Christmas movies," said junior Juno Lee.
For students at Adams, there are many experiences throughout Rochester that help to increase the festivity of the holidays and create a more enjoyable winter experience. Even if one enjoys the comforts of home, the many activities available in the Rochester area alone include sledding, enjoying the lights, skiing or snowboarding, ice skating, going to the Fire and Ice Festival, hiking on the trails, or merely going downtown and shopping. These events provide an exciting way to spend the long winter months in Rochester.