The Hype of Fantasy Football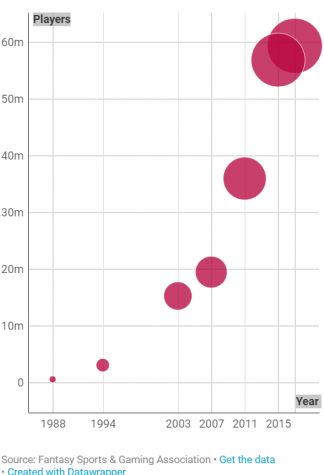 Fantasy Football might not be exactly like managing a team, but it sure does make one more engaged in the game. Football is a huge part of American culture as it is the most watched sport in the country, with 19.3 million people tuned in to watch the first game of the 2020 season between the Chiefs and the Texans.
Fantasy football is a game within a game, started by drafting and making one's roster. After that, one plays against different fantasy teams with different players, and the points are based on real stats of the players. There are various kinds of fantasy football including daily league, season-long league, and dynasty league. The various combinations add up to nearly 50 million players, almost 80% of the near 60 million people who play fantasy sports. 
Fantasy football also has a huge impact on the game of football and the NFL. Not only do they mention how many points players have on ESPN and during the games, they made a TV channel called Redzone specifically for fantasy football players to watch all of the scoring plays live. 
Paul Charchian, president of Fantasy Sports stated, "I challenge anybody to come up with a single element in the history of football that has changed and progressed the game more than fantasy football has." Not only does it make it more exciting to watch the game, but those who participate have the opportunity to profit off of one's players too. Money lures many into the game of football and especially now with states starting to allow sports betting.
Forbes magazine claims, "The U.S. fantasy sports industry has grown from an estimated 32 million players in the US + Canada in 2010 to 59.3 million in 2017." Since 2003, it would be more than a 270% increase. The Fantasy Football industry has become so big that it is making 6 billion dollars more than the NFL itself and is at about 18.6 billion and growing. 
This makes one wonder, how far will fantasy football rise?