Rochester United Charges Towards Playoffs
Just two months ago, the situation did not look favorable for Michigan high school hockey. With in-person schooling and high school contact sports still shut down, many were left scratching their heads as to whether or not Rochester United seniors would get a chance to represent their school one last time. Now, just a week into March, United has been on a roll, winning their last six games!
While the team currently sits at 8-5 on the season, the current seniors have been busy filling the roles of a talented group of seniors from 2020, while playing many of the toughest games on the schedule early. Senior forward Owen Mckenna thinks the team has a chance to make a serious playoff push, stating that the best is to come for the team. 
"I think we took our lumps early on. Having to play teams from up north right away is tough because we believe they provide some of the best competition in the state. We had some holes to fill from last year, but I think this team is ready to compete."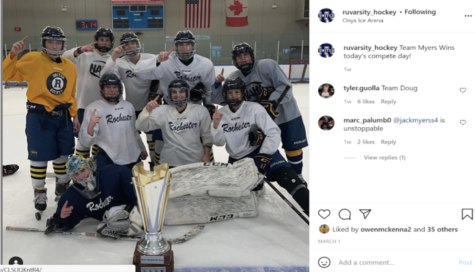 Other players on the team believe the newly found success is due to a new level of confidence found after a third-period win against Eisenhower in February. United took home a 6-3 victory, headlined by third-period goals from Shane Arbour, Jon Toomey and Carson Becks. When asked what the turnaround point was for this team, senior defenseman Brendan Santo said undoubtedly that it was this game. 
"I always knew that this was a high-powered offensive team, but the whole team was beginning to feel frustrated that we could not finish plays with a quality shot on net. When I saw my teammates make key shots that led us to victory down the stretch, I knew that this team would begin to show the firepower that I knew we had."
As Rochester United  grows closer to April, the pool of high school hockey teams still competing for a state championship is beginning to dwindle. If Rochester United wants to compete for a league title and a playoff berth, there is no question that the time to earn it is now. With just a few games remaining, the team sits just one point away from the division lead.