Dutton Dominates at Charity Game
On Monday, January 31st, the Rochester Adams Boys Basketball team big win was for a better cause with Dutton Farms reigning victoriously over the Highlanders 43-32. 
Dutton Farms is a small farm on Dutton Road in Rochester where adults and children with special needs can take part in classes, spend time with farm animals, tend to animals and crops, learn valuable life skills, meet new friends, and much more. 
Dutton Farms a 501c3 nonprofit organization that works to fulfill its mission in creating "a just-world where you will find dignified inclusion in our schools, workplaces, government, communities, churches and beyond". 
Two weeks later, members of Dutton Farms came back to Adams and were presented with a charitable contribution from the proceeds of the game. They were also acknowledged for the hard work and dedication to the mission.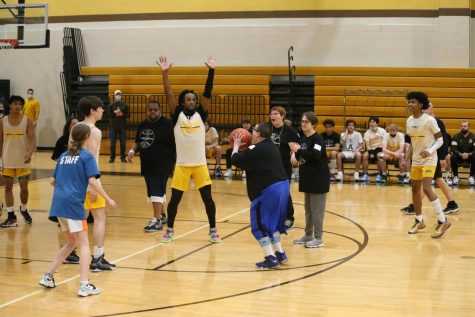 The charity game raised over $3,500 for Dutton Farms' programs; caring for the mentally, physically, and emotionally impaired. Dutton Farms sold over 250 hot slices of pizza, in which pies were graciously donated by Jets Pizza at Five Points Plaza in Auburn Hills. Candles + bath and body products by Everybody by Dutton Farms hand crafted by adults with developmental disabilities were sold and featured in a pop-up shop. Even with gate earnings, pizza and pop-up sales, t-shirt money, community members continued to go above and beyond to donate tips at the concession stand, collected by the Adams Athletic boosters.
Both teams had a phenomenal time as a united community. Adams varsity and JV cheerleaders were present to bring team spirit and cheer in support of both teams. Sponsor Neil King Physical Therapy kindly donated t-shirts for Dutton Farms players to wear and were also sold to fans and attendees as part of the fundraiser. At half-time, fans got to participate in an intense game of "Lightening" to raise additional money for the cause and give prizes to the winners as well.
"It was a really cool experience especially because of the amazing turnout from our students to support us and Dutton Farms," said Raul Govil, the Adams Boys Basketball team manager. 
For more information about Dutton Farms or to donate, visit duttonfarms.org.