Here4U Hits Rochester Community Schools
In this day and age, mental health is a growing problem: According to the CDC, 1 in 10 adults in the U.S. suffers from depression and anxiety. 
Here4U is a project for students to become peer educators who are involved in developing a campaign for the year. Each year, Here4U takes students from Rochester Adams, Rochester, and Stoney Creek that are elected by their teachers to be placed into a training program. These students will learn how to increase awareness of the signs and symptoms of depression and anxiety. They will also learn how to connect peers with trusted adults and mental health supporters in their community. 
Those students will then continue to meet to develop a campaign that will be delivered to Here4U, and then later put in place in their very own schools. Students can serve as "connectors" to get their peers to get to the right person. Furthermore, it can be very comfortable to talk to a friend or a peer, rather than a counselor because at times,  students may avoid visiting the counseling office for fear of being labeled as depressed. 
"Here4U will help students with depression and anxiety feel more comfortable about their problems and open up and get the right help they need. Here4U wishes to eliminate the pain of depression and help students make the right choice," said senior Maggie Scheff, selected to be a part of Here4U.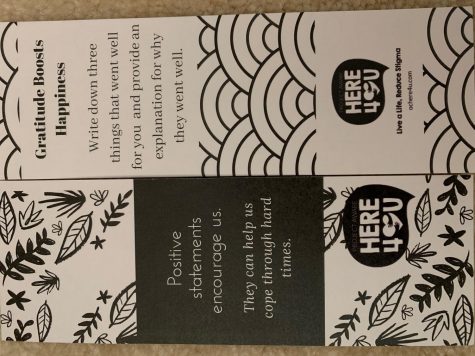 With activities from the future campaign, students will feel more comfortable and open about their anxieties. One primary element included in their campaign will be social media accounts, which will advertise the objective of Here4U and the campaign. Another expected aspect of the program will be grade-level meetings from peers.
"Students will have a chance to connect more with their peers and feel more comfortable talking about their problems. They will understand that everyone is not perfect and can relate to the people they know," said sophomore Josh Vokal, a potential speaker.
During Here4U meetings, students will share personal experiences that their peers may be able to connect to, and thus feel better about potential depression. 
Many people are afraid to talk to someone about their problems. With these activities, Here4U believes that people will be more open to their problems and not have to fear being openly judged or criticized for their mental health. Rochester Community Schools is pleased with the fact that people are trying to help, and many students are involved with the process.