The Battle for the Cup
The Stoney Creek Cougars were on a mission for their fourth straight Rochester City Cup volleyball title, but they had to go through the Highlanders first.
The City Cup is a four-team women's volleyball tournament. It is played every year to decide the best team in the city of Rochester. The teams are Rochester High School, Stoney Creek High School, Rochester Adams High School, and Lutheran High Northwest.  Could Stoney Creek win their fourth straight title? Or will another team prevail over the Cougars?
The Highlanders played the Cougars in their first match. Although they kept it close for both sets, Adams ultimately lost 2-0.
"We knew the tournament was not over yet; we still had two games left and had to play as hard as we could and hope for the best," said senior Emanuela Gjokaj.
The Highlanders played Lutheran High Northwest in the next game and beat them fairly easily, winning both sets. However, Stoney Creek had run the table, beating all three teams without losing a single set, reclaiming the City Cup for the fourth straight year. However, there was still one game left for the Highlanders. 
The two crosstown rivals squared off in the final match. If the Highlanders won, they would get second place. Meanwhile, the Falcons of Rochester High were still struggling to achieve their first victory of the day.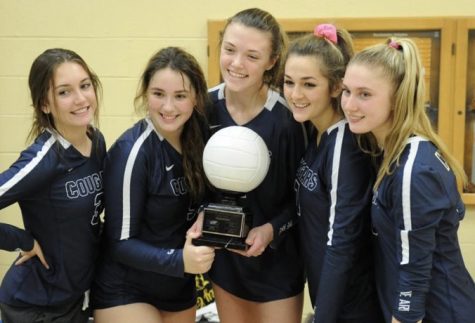 "No matter what, you always want to beat Rochester more than anything; it is always a close game," said sophomore Ella Pease.
The first set was very close, with the Highlanders winning 25-20. The second set was even closer, but the Highlanders prevailed, winning 25-23. The Highlanders settled for second place this year in the City Cup. In the end, the Cup concluded with Stoney Creek in first, Lutheran High in third, and Rochester High in last place. Despite the second-place finish, the Highlanders are determined to rewrite the script as they host the City Cup in next year's tournament.