This upcoming Friday, October 13th, Adams High School will be putting on its annual Homecoming Pep Assembly. The event will showcase fall sports teams, fun games, homecoming court recipients, and the highly anticipated boys dance team competition. 
A staple of the Homecoming Pep Assemblies, the boys dance teams have been a fan favorite and must see event. A group of boys from each grade form a team to compete at the pep assembly. Each group works with a coach to choreograph a dance that wins over the crowd and judges in the hope of bringing home the coveted prize of the dance team champion. 
This year, the senior team is being coached by Malana Mentier and Bianca Oliveira. Mentier and Oliveira are on the Student Council and are both members of the Adams Varsity Dance Team. They have both been dancing for over 10 years, and have worked tirelessly with this year's group of senior boys to ensure a winning performance. It's no secret the seniors are favored to win, as they have won the competition several years in a row.
"The boys are excited for the dance team this year because it's their very last one! And they love to do the fun dances together to get the crowd hyped for homecoming. They also had fun incorporating some fun songs and dances that they wanted to include," said Oliveira.
For seniors, the excitement is at an all-time high to see the team's performance at their final Homecoming Pep Assembly. Two years ago, this group of seniors was awarded second place in the competition, despite being underclassmen. They are eager to win this year, and are working hard to ensure it.
"Last week when we started practices, they were just showing up and learning the choreography, but this week they have really started to come together and are more excited to learn," said Mentier.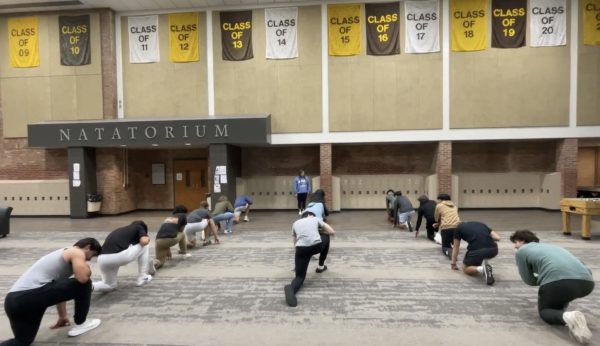 With the work and dedication of the dancers and coaches, the class of 2024's performance this year is shaping up to be its best one yet.  
"This year's dance is going to be FIRE!" said Mentier.