Katie Fodale makes history again by hitting her second hole-in-one in golf; a feat that even the best in golf can only hope for. Fodale's monumental achievement occurred on September 21 at Sylvan Glen Golf Course in Troy, only a couple of years after her first hole-in-one. Fodale, a senior at Adams, has been a star athlete in golf and on the ski team from the start of her high school career winning state titles in ski and golf.
Fodale started her golf career at just five years old, originally getting into the sport because of her father. 
"My dad is obsessed with golf, so we joined a golf club and he signed me up in the junior program," said Fodale.
Golfing together is a tradition for Fodale and her family. But today, she continues with golf for the social aspects as well as the validation she earns. Fodale considers golf as one of the most sociable sports she plays because of her fantastic team. Golf, mostly an individual sport, has translated into a special experience for Fodale because of the uniqueness of the girls golf team at Adams sharing experiences with her friends and teammates. 
"Getting to play for the team, it's really fun… to be able to look over and see my teammates during a round." Fodale answers after being asked her favorite part about golf. 
Fodale has conquered the green for years, honing in on her technique. Her level of talent is extremely hard to achieve, especially as a teenager. According to the National Hole In One Registry, only 14% of holes-in-ones are made by women, and 60% of holes-in-ones are made by people aged 50 years and older. Fodale's accomplishment is incredibly impressive and is only a dream of golfers.. 
"People who are in their 40s always tell me that they haven't even hit one hole in one yet," said Fodale, acknowledging how difficult the feat is.
Golf is one of the most difficult sports to play and although Fodale has seen her share of successes, every day is different on the course, some days the mental and physical challenges can be draining. One round of golf consists of 18 holes, which can take up to 4-5 hours to play. If Fodale hits a bad shot on hole one, a terrible shot or round can have a lasting impact. . 
"It's a lot of time to sit there and think about all the bad shots you might have hit. It's hard to recover after a bad shot (mentally)," said Fodale.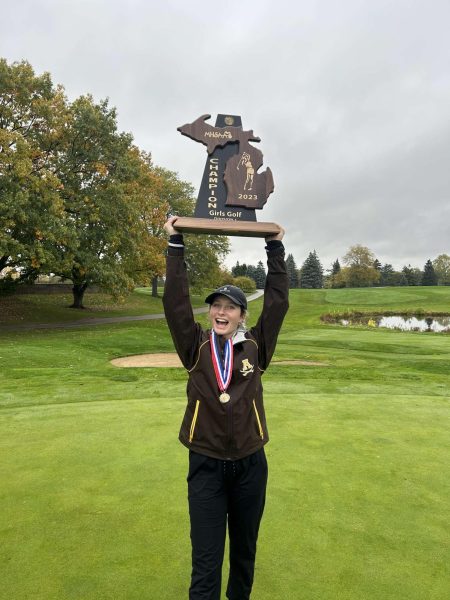 As she should, Fodale takes great pride in both of her holes-in-one. Her first one was even more spectacular than the second because her family was there cheering her on. Fodale describes it as a full-circle moment in her life. Her first hole-in-one was when she was just a freshman, and the second this season as a senior. 
"I felt so cool. It was awesome," said Fodale when asked about how it felt to hit her most recent hole-in-one. 
Despite her successes, Fodale stays humble claiming that "luck is on her side" when it comes to golfing. 
Moving forward, Fodale plans to keep golfing as a hobby, as she plans to continue her ski career in college.
Fodale does intend to keep her family tradition going and play golf in the summer, and thinking ahead, Fodale's dream is to join a country club just like her parents and start her own tradition with her own family one day.