The Ragg Rats Claim Another Great Season
For many Adams sports programs, Covid-19 has had a significant effect over the last couple of years. Luckily for the Adams golf team, Covid did not elicit a large change in how the team practiced due to the individuality of the sport. 
"Covid probably affected us less than any other sport. When and if someone got quarantined, every girl was ready to step up and fill in for her. The worst part was not being allowed to warm up in groups in 2020, so we just had to improvise on our warmups frequently," said Jeffery Kutschman, the varsity coach of five years.
The Adams golf team (named Ragg Rats) has always been a dominant force in Michigan. In the past five years, the Ragg Rats have earned three league championships and two regional championships, including their 2021 victory. This is their third year making the state finals as a team, and they continue to win. This year, the Ragg Rats have not disappointed.
The team started with a strong start during the league tournament, taking first place and remaining undefeated in league matches with a 5-0 record. The Ragg Rats did not stop here though; just two days after their win against Stoney Creek, they made a strong performance at regionals and took home the victory once more.
With a first-place victory at the league and regional tournament, the team quickly qualified for states. Ten days after regionals, the team was well-rested and prepared for an exceptional performance during states. After an hour on the course, the Ragg Rats placed 6th out of the 18 teams competing, with Laura Liu receiving the honor of MVP.
"Winning the league and region and making it to state finals are all outstanding accomplishments. The girls' hard work really paid off," said Kutschman.
Following the drop in team members since 2020, the Ragg Rats were left with a smaller team than usual. With only seven members, the team was one of the smallest in Michigan. However, the lower number resulted in a much closer team with stronger bonds. These golfers include Alyssa Fodale, Brooke Beyhalo, Laura Liu, Katie Fodale, Alexa Carmago, Olivia Dance, and Emma Cheyne.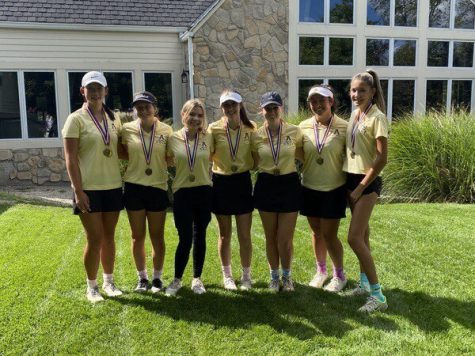 "I think what makes us unique is that we have a close bond," said sophomore Laura Liu, "We do a lot of team bonding activities which really strengthens that."
During practices, the team focuses on each golfers' individual skills. As a team, they focus on improving putting and chipping to practice their skills under pressure. Along with this, they spend time getting to know each other and their lives outside of golf.
"This has always been so important for building our team," said Kutschman.
Individually, the golf teams hold multiple other individual awards. These include the 1st team D1 All-State (Laura Liu), HM D1 All-State (Alyssa Fodale), Dream Team All-County (Laura Liu), and the HM All-County (Alyssa and Katie Fodale). 
"Even though we need a team to make it to the state finals, golf is a very individual game. The girls on the team have put in countless hours of individual work on top of what we do together as a team. But in this work, they have learned how to support and root for each other," said Hutschman. 
This year, the Ragg Rats finished the year with yet another great season, claiming leagues and regionals. With their close bond and strong skills, the Adams Girls Golf team will not be stopping soon, and everyone is excited to see their next competition.