It is hard to go on social media and avoid seeing it everywhere: the alleged relationship between pop icon Taylor Swift and Kansas City Chiefs tight end Travis Kelce. But why all the hype?
Swift is a sensation in the world of music, a star who began her career in the country genre in the late 2000s, with her biggest country hits including Love Story and Our Song. 
During the 2010s, she began gaining popularity for pop songs, including I Knew You Were Trouble and We Are Never Ever Getting Back Together, both from her 2012 album, Red. She grew to fame and became one of if not the most famous artists in North America after releasing newer songs such as ME!, Cardigan, Willow, and Anti-Hero.
"I like Taylor Swift because I love her music," said senior Swiftie Hannah Barrett. "She's an inspiration in a lot of ways because of her determination to stay true to herself."
Kelce is a football superstar, widely regarded as the best tight end in the NFL today. Kelce was drafted out of the University of Cincinnati in the third round of the 2013 NFL draft by the Chiefs. He impressed early and found chemistry with Chiefs quarterback Patrick Mahomes, who was drafted in 2017 out of Texas Tech.
The duo has since gone on to appear in five straight AFC Championships and win Super Bowl LIV in 2020 and Super Bowl LVII earlier this year. 
Now, Kelce seems to be forming a new dynamic duo with Swift.
It is unclear how Swift and Kelce met. However, many have speculated that it stemmed from a comment Kelce made on New Heights, a podcast hosted by him and his brother, Jason, an offensive lineman for the Philadelphia Eagles, on July 26. 
Kelce told a story of when he attended Swift's "Eras Tour" performance at Arrowhead Stadium in Kansas City during the NFL offseason. He made a friendship bracelet–a common gesture is for Swift fans to exchange them at her concerts–with his phone number on it, that he had planned on giving to Swift.
Unfortunately, since she doesn't like to talk to people after her concerts to conserve her voice, Kelce was unable to give her the bracelet. However, after his comment went viral, rumors started circulating social media that the two were talking to one another on an intimate level.
These rumors may have been confirmed when Swift made an appearance at Arrowhead Stadium on September 24 for a Chiefs game against the Chicago Bears. Swift was spotted in a suite with Kelce's mother, cheering on Kelce and the Chiefs. Throughout the game's broadcast, Swift was seen cheering on Kansas City and getting amped when Kelce caught a touchdown.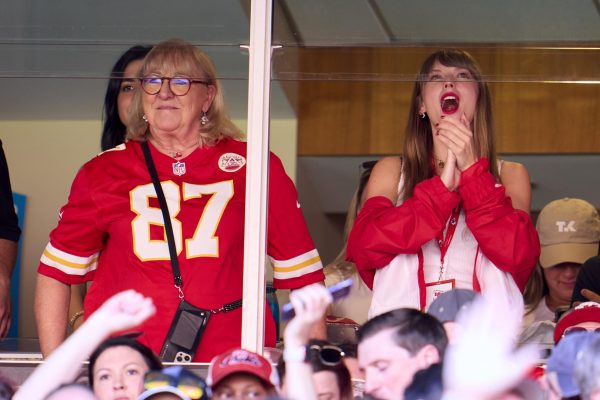 She has since attended other Chiefs games: a Sunday Night matchup with the Jets on October 1, at MetLife Stadium in New Jersey, as well as a sighting at Arrowhead for a game against the Chargers on October 22. These appearances all but confirm that the two are getting pretty serious in their relationship.
Swift's relationship with Kelce has attracted thousands of new fans to the NFL, as many "Swifties" are now tuning into games and buying Kelce jerseys that they otherwise wouldn't have before. After Swift's first appearance at Arrowhead Stadium for the Chiefs game, Kelce's jersey sales went up by over 400 percent. The Chiefs' matchup with the Jets saw an increase of over two million female viewers.
"I watch all these sports shows, like ESPN and Fox. They all talk about Taylor Swift and the impact she's had on the NFL's revenue and jersey sales," said junior Owen Kleber.
Whether or not fans of the NFL like it, Swift is making a huge impact on the NFL and the audience it is reaching. Her relationship with Kelce has become one of the most publicly-followed relationships in recent memory. The combination of one of the biggest names in the music business and one of the biggest names in sports is already making more headlines than one can count, and will certainly make more as their relationship progresses.