Wolverines Hunting to Win NCAA Tournament
After a long off-season, NCAA madness is back in action. With last year's decision to cancel March Madness amid the pandemic in 2020, athletes are prepared to return on March 18th. As the tournament quickly approaches, stand-out teams including Gonzaga, Baylor, and Michigan are looking to bring an NCAA title home.
The Michigan Wolverines, a team overlooked by many in the beginning of the season, are serious contenders to win the NCAA tournament this year. The defensive-oriented team, ranked number two in the nation, currently has a record of 18-1 having lost a tough game against Minnesota. Michigan's defense proved its worth against Iowa, one of the best shooting teams in the Big 10, holding them to just 6-19 shooting from beyond the arc. Michigan has only conceded an average of 62.5 points a game, allowing over 75 points only twice. On average, NCAA championship-winning teams allow 67 points per game, while scoring 77. When reporters asked about the team as a whole, Michigan's star player, Hunter Dickinson, said.
"That's when the game is the most fun when you're on teams like [this]. You're not really focused on having to do too much for your team. You can really rely on different guys every night. You're not pressing to score 25, 30 points a game."
The special part of Michigan's 2020-21 roster is the versatility across the board. Coaches like Juwan Howard, Saddi Washington, and Howard Eisley, most of which have experience with NBA players, are major assets to the Wolverines' success. Not only this, but star players Isaiah Livers, Franz Wagner, Eli Brooks, Chaundee Brown, and Hunter Dickinson make for a lethal, well-rounded team. Overall, Michigan's ability to excel on both ends of the court makes them nearly unstoppable as a team.
Some of Michigan's biggest threats on its road to the championship include number one ranked Gonzaga, and number three ranked Baylor. The favorite, Gonzaga, is currently undefeated and on a 24-game winning streak. Baylor also has a strong record of 18-1, but fell behind in rankings due to the strength of its schedule. Both of these opponents have elite offenses, which will be a great matchup for the Wolverines in the upcoming tournament. 
"This Michigan team is different. The chemistry is unmatchable, and I don't think teams like Gonzaga or Baylor have a shot," said die-hard Mic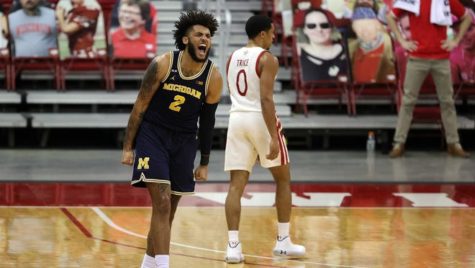 higan fan, Will Postma.
As fans and players eagerly await the start of March Madness, questions about which teams are favored to win still linger. With 68 teams participating in this year's tournament, fans can take their pick of favorites. However, whether a fan or not, be prepared for Michigan basketball to make a statement.