Tom Brady's Future in the NFL
Tom Brady has been the face of the New England Patriots for the past 19 seasons and is now a free agent for the first time in his career. Brady has three options at this point: sign a new contract with New England, be traded to another team in the NFL, or retire. 
After the recent loss to the Tennessee Titans on January 4th, Brady did not seem like his normal self. His pass was knocked into the air, intercepted, and returned for a touchdown late in the fourth quarter, sealing the game for the Titans. Brady slowly walked to the bench and sat motionless. Usually self-assured in himself and his teammates, Brady seemed unsure about his future in the NFL when asked in the post game interview.  
"I've loved playing for this team for two decades and winning a lot of games. I've always tried to do the right thing. Who knows what the future holds, so we'll leave it at that," said Brady.
Most of the post game interview was filled with Brady's responses being open for interpretation by viewers, begging the question of whether Brady will retire, or decide to keep playing football. 
Brady managed to answer this question with an ambiguous response; "I would say it's pretty unlikely, but yeah, hopefully unlikely," said Brady when asked if he would retire.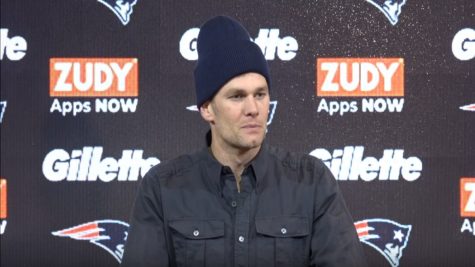 Brady has been performing at an elite level for several years: over the course of his career, he's had nine Superbowl appearances and won six of them. His achievements speak for themselves: Brady is amongst some of the greatest quarterbacks to ever touch the field. He is an outstanding athlete and player, but can he still compete at his age? More importantly, if he does not retire, where will he play next season?