Tom Brady Secures his Seventh Ring in Super Bowl 55
Tom Brady claimed his 7th Super Bowl victory as a 43-year-old Sunday night and became the only man in the history of professional football to wear seven rings. 
The Tampa Bay Buccaneers hosted the Kansas City Chiefs in Super Bowl LV(55); making the Buccaneers the first team in the history of the NFL to play a Super Bowl in their own stadium (Raymond James Stadium). Tampa Bay would end up winning, 31-9 over the Chiefs. 
Kansas City was looking to be back-to-back Super Bowl champions this year, as they beat the San Francisco 49ers, 31–20 in Super Bowl LIV (54). The starting quarterback for the Chiefs, Patrick Mahomes, did all he could with what he had. According to NextGenStats, via Seth Walder of ESPN.com, Mahomes ran 497 yards before throwing the ball or being sacked on Sunday night. It was the highest total for any quarterback in the 2020 season. Mahomes struggles were in large part due to the Chiefs losing both of their offensive tackles due to injury, including left tackle Eric Fisher who played locally for the Stoney Creek Cougars.
"If they had those tackles, it would have been a totally different game. I don't think people realize how much your offensive line matters in big games like that. Mahomes has never been pressured like that before," said fellow observer TJ Vokal.
The Buccaneers defense, led by linebacker Devin White, held the Chiefs to zero touchdowns and under double digits. It picked up two interceptions and managed to keep Kansas City 3/13 on 3rd down conversions. With no movement from the Chi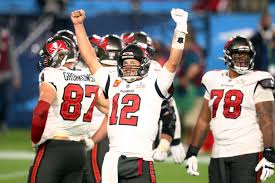 efs' offense, Tom Brady was able to utilize the field as he wished.
Brady connected with long-time teammate Rob Gronkowski for two touchdowns and 67 yards and took advantage of his arsenal of weapons on offense making throws to six different players for over 200 yards.
"He is truly the G.O.A.T. as some may say; he is the greatest to ever play this game. There will never be another Tom Brady to play in the NFL ever. He is the best," said Ethan Kaiser, a long time football watcher. 
In Brady's Super Bowl MVP speech he mentioned that he will be returning to the NFL next year to play in his 21st year. At 44 years old he will be competing against men that are half his age. Will father time be a gift or a curse as Tom Brady endures his hunt for his eighth ring?