The Month of Madness
The calendar has finally switched over to March. March calls for more sun, melting snow, and the most popular basketball tournaments of the year: NCAA March Madness. 
During the 2019 NCAA tournament, teams showed what they were made of. Many underdog teams came out on top which changed most predictions of the final outcome of the tournament. 
For those who do not know what March Madness is, it is the NCAA Division I men's basketball tournament, which has been played annually since 1939. The tournament is a single-elimination tournament of 68 teams that compete in seven rounds for the national championship. "Selection Sunday is the day when the tournaments Selection Committee reveals the full bracket, including all teams and seedings" (NCAA).
In 2020, Selection Sunday is on March 15. This means it is nearing two weeks until all sports fanatics will know where their team lies in the bracket. This day is also very important to basketball followers because they can create their own tournament predictions on how teams will fare against each other. This creates competitions between the whole sports world to see who is able to create a perfect bracket. 
"The best part is making your own bracket. All of my friends and I bet and see who gets the most games right, last year I won" said Adams junior Jack Stanley.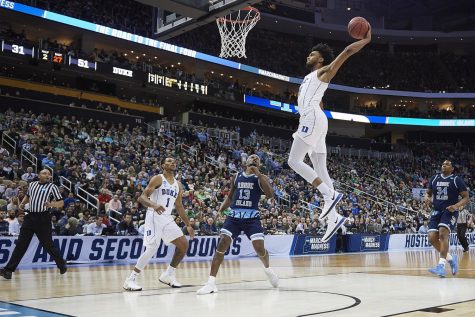 On Saturday, the NCAA DI Men's Basketball Selection Committee unveiled its top 16 teams. This is when many bubble teams are at the point of either working to be moved up in the rankings or be pushed out of the tournament. This year many were shocked at how well some conferences did in placement of the overall rankings. So far in the 2020 NCAA basketball season, Kansas and Gonzaga, the top two teams, have been punishing their way through all year. Many fans are watching them closely and have them going far in their bracket. Sports Illustrated allows viewable predictions from experts in the basketball league. There, they share personal thoughts on how teams will do against each other's offense and defense.
"I either check ESPN or Sports Illustrated's predictions before I make my bracket. They always know more than me and I usually can get some major upsets right." said Adams junior, Tyler Boeve.
As we get closer to the start of this year's madness between the top 68 teams in the country, fans are on the edge of their seats to see how the teams will compare. The biggest question of all, that has everyone anxious, is who will be taking home the hardware April 6 at the Mercedes-Benz Stadium in Atlanta.