The Big Ten is Dancing
Last week, 14 teams competed in Indianapolis for the Big Ten tournament title and an automatic bid in the NCAA March Madness tournament. The tournament commenced on March 14th with play-in games among the lowest-seeded teams. Minnesota and Penn State kept their season alive with wins against their respective opponents and advanced into the second round of the tournament.
The second round took place on Thursday, beginning with a matchup between Maryland and Michigan State as the Terrapins got the best of Tom Izzo and his Spartans. Ohio State, Wisconsin, and Rutgers also picked up wins to advance to the quarter-finals. The quarterfinal round is when the tournament really started to heat up. The top-seeded teams began to play after their bye games. Michigan faced Maryland on the heels of their big win over MSU and defeated them 79-66, advancing Michigan to the semi-final round. 
Just a few hours after the completion of Michigan's game, Ohio State was in a nail-biter, overtime game with Purdue. The Buckeyes pulled off a huge win with help from star shooting guard, Duane Washinton. Washinton made some clutch free throws in the overtime period to seal their spot in the semi-final round.
Michigan and Ohio State, age-old rivals, were set to play for a spot in the Big Ten championship game. A win would all but guarantee a one seed for Michigan in the NCAA tournament and a win for OSU would keep their one seed hopes alive. 
"It's literally win or go home, and I don't want to go home right now. I want to win. By any means, I'm going to help this team try to win," said Michigan point guard, Mike Smith prior to the game.
Unfortunately for Smith, his efforts weren't good enough to defeat the fifth-seeded Buckeyes as Michigan was sent home after a missed shot that could've won them the game. 
Ohio State, after back-to-back victories as the underdogs, had managed to make it to the Big Ten title game and was set to play second seeded Illinois. Illinois had been dominating over its competition, with its closest game of the tournament being an 11 point win over Iowa in the semi-finals. OSU had their work cut out for them if they wanted a chance at the title.
"Ohio State is going to need their best game to beat Illinois," said Adams student and basketball fan, Joon Yang.
Despite their best efforts and resilience, Ohio State came up just short of the victory after losing by 3 points.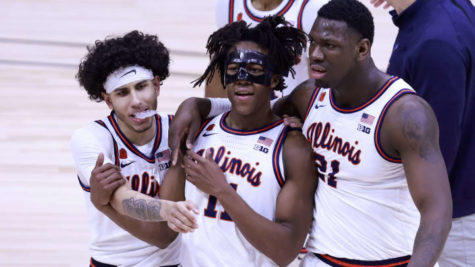 With the Big Ten conference championship wrapped up, Big Ten teams look forward to the NCAA tournament. Nine out of the 14 Big Ten teams made it to "the big dance" and will have their shot at the national championship if they can survive the huge field of teams in the tournament.