Super Bowl LIV
For those who have been living under a rock, taking place this Sunday is the largest game in American sports being played between the winners of the American Football Conference (AFC) and National Football Conference (NFC). This year, the two teams competing for Super Bowl glory are the Kansas City Chiefs and the San Francisco 49ers.
The Super Bowl is one of the most viewed sporting events year-round. The game will be played at Hard Rock Stadium in Miami, Florida on February 2, 2020. Kick off will take place at 6:30.  
The day of Super Bowl LIV, fans in downtown Miami will be celebrating with team mascots, collecting free autographs from NFL players and Legends, and allowing unique photo opportunities. The super-bowl also includes the world-renowned and highly anticipated half-time show. Ironically enough, many people enjoy seeing the hilarious commercials and halftime performance more than the game itself. 
"Throughout my whole life, I have never watched one minute of any super bowl game. I only care about who is performing and when," said Adams junior Alexis Wolas.
In all of their past Super Bowl appearances, the 49ers emerged victorious in (1982, 1985, 1989, 1990, and 1995) while Kansas City has only made it this far once, but when they did in 1970, they defeated the Minnesota Vikings. 
This year both teams ended the regular season with outstanding records. The Chiefs are going into the game 12-4 while 49ers were able to secure one more victory coming in with a 13-3 record. 
All viewers of this spectacular game will be watching closely to each team's stand out players. The quarterback position is one of the most important spots on each team. In this specific Super Bowl, each teams' extremely talented quarterback, Jimmy Gorappolo (49ers) and Patrick Mahones (Chiefs), will be expected to help push their team to victory. Both teams have an outstanding defense in pass and run protection. both ending the regular season in the top five overall defense and offense.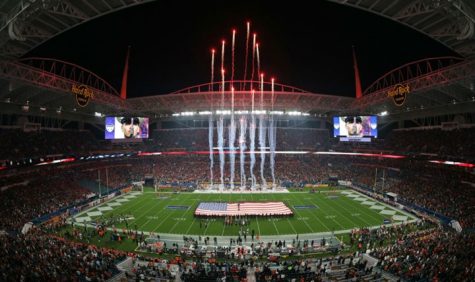 This game's rivalry stirred up a lot of attention in and out of school. During Super Bowl week, the atmosphere slowly intensifies between students. The argument on who will end up with the victory and take the hardware home can even be heard throughout the halls of Adams.
¨Jimmy Gorapalo learned from the best and now will make his team the best. The 49ers without a doubt will win,¨ stated sophomore Griffin Henke.
It is hard to predict the outcome of this game, but one thing is for sure, the sheer talent from each team will make it a game to remember.