RU Sweeps Stoney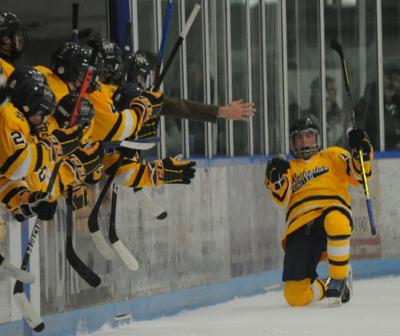 Saturday, February 15th, Stoney Creek hockey was celebrating its seniors for the final home game against Rochester United hockey (RU), but RU had other plans for the Cougars.
"Stoney Creek is always a massive game. Our team has been on a win streak lately, and we wanted to carry that energy into this game. We didn't want their senior night to be a memorable one," said Adams senior Matt Kanaras. 
The last time these two teams played each other, RU won easily with a score of 4-1. Saturday's game started off just like last time, with a quick RU goal from senior Jack Poussier. Stoney Creek tied it up right before the end of the first period with a goal from senior Will Boyer. At the end of the first period, the score was 1-1.
"We didn't play our hardest the first period. We were sloppy and didn't finish some easy ones. We knew we'd be in trouble if we didn't find our rhythm soon," said RHS senior Jack Myers.
The second period started slow because neither team could manage to put the puck in the net. Midway through the second period, Stoney Creek's Jack Davidson scored to put the Cougars ahead 2-1. RU came out firing after the Cougars's second goal. Senior Matt Kanaras scored a backhanded goal to even the score at 2-2. Later in the second period, Jack Myers scored off a beautiful assist from his younger brother, Steve Myers. At the end of the second period RU was ahead 3-2. 
The third period was a nail biter, with the Cougars in desperate need of a goal to tie the game. They skated the puck up the ice as quickly as possible for a last effort, but RU goalie Caleb Godlewski did not let in a goal for the entire third period. 
Once again Rochester United beat Stoney Creek…for the second time this season, with a score of 3-2.