Rochester United's Mid-Season Check up
After last year's attempt at the elusive state title, Rochester United is seeking revenge. With a record of 7-10, the boys are struggling to win divisional games. However, RU is defeating teams outside its division, helping it to maintain playoff eligibility. Currently, RU is currently on a five game winning streak turning their season around. 
Rochester United started the season winning two out of ten games and making for a very disappointing record. The boys went on a trip to Houghton. On this road trip, they played Michigan's top tier teams, including the Hancock Bulldogs and the Houghton Gremlins. 
The team played Hancock first. Unfortunately, Rochester United fell 4-7, and the boys had to play Houghton, the 4th best team in Michigan the following day. RU fought hard again but lost 0-2 by an empty net to Houghton. Reflecting back on Rochester United's road trip to Houghton, Finn McCaughtry explains how these losses helped RU players change their mindsets. 
"The hard work we put in practice needs to pay off, but when we play these powerhouse teams, we get better as a whole. After the trip, it allowed us to start winning games against easier opponents that mattered like Chiawa Valley. This long road trip conditioned and helped us win the last five games," said Mccaughtry.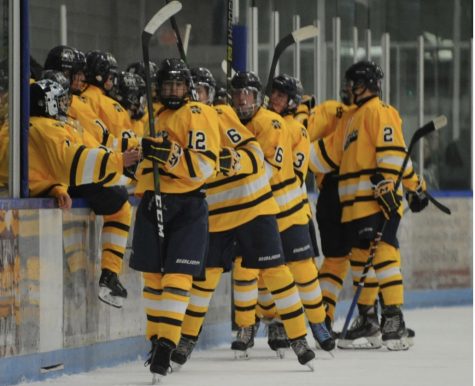 Moving forward, Rochester United needs to keep winning these crucial games and get to a 10-10 record. If it can finish .500, it will create an easier road in the playoffs, and it won't have to play the best opponent in its division, Lake Orion. 
"This year's team has been a roller coaster, but we are finally finding our groove. Character and leadership shown by each player gives Rochester United a team identity you rarely see," said senior Matt Kanaras. 
As the season is a month away from playoffs, Rochester United is preparing for the divisional title. If it keeps winning, it will learn from the past and help to focus on the games ahead.