Rochester United off to a good start?
Rochester United is coming off of a record breaking season, coming the closest the program ever has to being state champions. Looking forward, the team hopes to keep its momentum, and finally clinch the elusive state title.
After a remarkable season of going 26-4, breaking school records, and making it the state championship, Rochester United is getting set for the start of yet another action packed hockey season. Rochester United is playing in the Fraser Fall League, as a way to prepare for the coming winter showdowns.
RU plays four games each weekend to qualify for the championship tournament. Currently, the boys have eight wins and four losses. This allows them to play in the semi final games against Romeo and Chippewa Valley. Last weekend RU managed to beat Chippewa Valley in a hard fought 4-1 victory. Accompanying this win, RU unfortunately lost to Stoney Creek in a shootout 3-2. They play Romeo this Sunday at 7:45 at Fraser Ice Arena and are looking for some redemption coming out last weekend's loss. 
Going into this tournament, RU knows there will be stiff competition. Sophomore Finn McCaughtry is preparing for the game by participating at the off and on ice workouts each and every week. Finn knows he has to give it his best effort to take down Romeo this weekend. 
"Even if we go undefeated this weekend, there is still room for improvement. We need to play as a team and score goals. Let's go out there and have fun, and mercey Romeo. This is the beginning of our journey to the state championship," said sophomore Finn McCaughtry 
Rochester United is split-up between two schools: Rochester and Adams High School. On the team, there are currently 15 students from Rochester and five from Adams. Even though there is an unbalanced amount of players between schools, RU still manages to light up the ice and score phenomenal goals time and time again. Due to this unique split-roster situation, players are forced to bond and embrace diversity unlike anyone else in the league.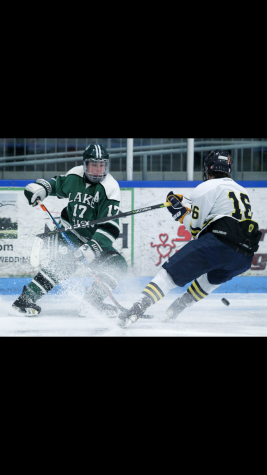 a United hockey team makes for a great atmosphere both on and off the ice constantly making new relationships. I can't wait to start the season with all of the boys, and get down to business. This year means a lot since it's my senior year, I want to give it my all and do my best for my school," said senior Matt Kanaras. 
As the season begins, Rochester United is preparing to have a successful run. Going into their season with their heads high, RU will be giving it their best shot for this long winter season.