Michigan State Exits Big Ten Tournament Early
The Michigan State men's basketball team has had a rollercoaster ride of a season. MSU started off the year hot ranked #4, but after a few losses dropped out of the rankings. Coach Tom Izzo has had his hands full putting together a winning team this season.
For the majority of the season, Michigan State endangered their NCAA tournament streak, until clutch wins against top teams including Illinois, Ohio State, and Michigan came into play. This not only allowed Michigan State's 23 year NCAA tournament streak to continue, but bumped them from unranked to 11th in the Big Ten. 
The Spartans have always been successful in the Big Ten tournaments, making it to the quarter finals every year since 1998. Hoping to continue their streak, the Spartans were matched up against Maryland in the Big Ten. Unfortunately for the Spartans, this streak came to an end with a disappointing loss 68-57.
"That's what I told this team, I said, 'Don't worry about streaks. Worry about putting yourself in a position for our team to get better. You get better and then let the chips fall where they may.' That's been the battle cry for me," said head coach Tom Izzo, when asked about the Spartans Big Ten streak.
During the game, Michigan State came out the gate hot, shooting 6-7 and led Maryland 17-6 with just under 15 minutes left in the half. Comparatively, the Terrapins shot 7-22 in the first half, but still managed to lead by 4 points due to shooting 15-16 from the free throw line. The Spartans' hot streak didn't last long, as they missed 16-17 of their last shots in the half. The struggling Spartans got hot, but were down 11 with 13 minutes remaining. What seemed like a possible comeback was shortly lived due to Michigan State's sheer number of turnovers. One of the Spartans' young talents, Malik Hall, had a breakout performance scoring 19 points while shooting 8-12 from the field. However, his heroic effort could not drag the disadvantaged Spartan team to a win.
The unfortunate loss for the Spartans gave Tom Izzo his first losing Big Ten season with the Spartans. However, there's little time for self-pity, with Michigan State facing off against fellow 11th seed UCLA on March 18th, to kick off March Madness. Even with the ups and downs of this Spartan team, do not count them out this March. With big wins against top dogs including Illinois, Ohio State, and Michigan, Tom Izzo and his Spartans certainly have a chance at busting brackets this year.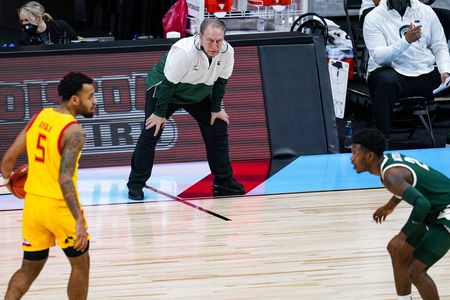 With the conference championships wrapped up, Michigan State needs to lock in for the next coming weeks. In a conference filled with Michigan, Alabama, and Texas, there is no easy route on their way to the NCAA championship. 
"We have to take advantage of that opportunity. It's win or go home now, but we have an opportunity, and nobody can take that from us," said Spartan veteran Joshua Langford.
For Tom Izzo, this is nothing new, so be prepared for a Spartan takeover.