Joe Burrow Wins the Heisman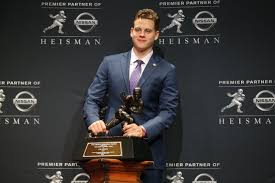 By the largest margin in history, Joe Burrow is the Heisman Trophy winner.
Before the college football playoffs start, the most prestigious award is given to what is defined as the most outstanding player. This award is the Heisman Memorial Trophy or "The Heisman". 
Winning by the largest margin of votes in the history of the award, Joe Burrow took home the trophy. 
"Joe Burrow definitely deserved to break that record," stated senior Zack Gross. "The previous highest was Troy Smith–who even is that guy?" 
Burrow spent most of his childhood in The Plains, Ohio, where his father was the defensive coordinator for nearby Ohio University. Despite his dad and two brothers being successful on the defensive side of football, Burrow's quick learning and athleticism made him a quarterback from a young age. In his Heisman acceptance speech, Burrow mentioned that his town has a poverty rate nearly twice that of the national average. Burrow had no trouble overcoming this however, ending his high school career as a four star recruit committed to Ohio State University.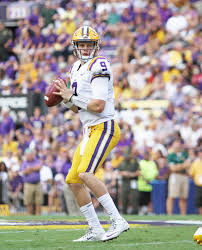 After redshirting his freshman year, Burrow spent the next two seasons getting limited playing time behind his teammate Dwayne Haskins. During his junior year, Burrow reached his breaking point with playing time and decided to transfer to Louisiana State University (LSU). He was given the starting job by Coach Orgeron, whom he thanked through tears during his Heisman speech. During Burrow's first season at LSU, he  racked up 3,293 total yards, 23 total touchdowns, and a 133.2 QB rating leading the Tigers to a 10-3 record. Burrow had a significant season this year, blowing his previous year out of the water. He set the SEC record for most pass yards in a season with 4,715, which was also the second most by a player this season. He added 289 rushing yards as well. He totaled 51 total touchdowns this year, 48 being through the air (tied single season SEC record). The 51 TDs made Burrow the touchdown leader, edging out Heisman finalists Jalen Hurts and Justin Fields who both had 50. Burrow also did all of this production while being incredibly efficient. He led the NCAA in Completion Percentage at 77.9% and was second in QB rating with a rating of 201.5. These feats contributed not only to earning the Heisman but also because of Burrow's outstanding year, LSU went undefeated and finds themselves ranked number one in the country.
Hopefully for LSU, having college football's most outstanding player is enough to earn the National Championship in January.