How the Pistons Failed Andre Drummond
With the February trade deadline coming to a close, teams across the NBA are making big changes. Some trades surprise fans more than others, but this year's trades were more shocking than usual. 
Although fans in Detroit were expecting the possibility of a trade involving Drummond, the trade still seemed to come out of nowhere. The two-time All Star center was selected by the Detroit Pistons in the first round of the 2012 NBA Draft with the ninth overall pick. Drummond is known as a rebounding machine, with 8,213 in his career, and currently averaging 15.8 a game. Drummond is second all-time in rebounds, first all-time in rebounds per game, and first all-time in rebound percentage. He is fifth all-time in steals and third all-time in blocks, first all-time in field goal percentage, and seventh all-time in Win Shares. Drummond clearly has been an exceptional player and great asset for the Pistons. 
"Drummond was definitely my favorite Piston since the day he stepped on the court in Auburn Hills. I loved his physicality and his ability to lead the team. It sucks to see him go, but it might be a good thing for the organization. Regardless, he will be missed," said Adams senior Brendan Sullivan.
But the question still stands: why did the Pistons trade him? Drummond has a $28.8 million option for 2020-21, which is believed to be the main reason the Pistons traded him. The Pistons can't afford to keep Drummond if they want to rebuild. Detroit only has so much money that it can pay players, and $28.8 million is too much money to pay for a rebounder. What Detroit needs is to have playmakers. This is where the problem presents itself. Trading Drummond is not what the Pistons did wrong. What the Pistons did wrong is who they traded Drummond for; Drummond was traded to the Cleveland Cavaliers for Brandon Knight, John Henson and a 2023 second-round pick. Brandon Knight and John Henson are not playmakers. What the Pistons received for the All-Star was a couple average players and a draft pick in two years that won't be helpful. That is a problem. 
After a big trade in the NBA, the same question is always posed among fans of the NBA: How do the fans of each team feel? While fans in Cleveland are happy, fans in Detroit are a bit conflicted. Although the trade was not ideal, most fans in Detroit are just glad that Drummond is gone in regards to his contract, and ready for a fresh start.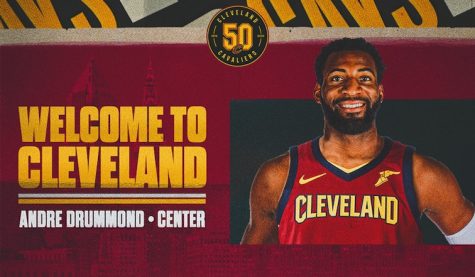 "I just want the Pistons to rebuild and be great again. I'm glad Drummond is gone, but it would have been nice to get something out of the trade," said Adams sophomore Christian Schomer.
On the other hand, some Pistons fans are not happy about anything involving the trade. Having Drummond on the team would be great considering he is an All-Star center with record-breaking statistics, and would have a great influence on the rest of the squad.
While it may have been smart to get rid of Drummond as soon as possible, the Pistons failed to receive value from the two time All-Star. By not receiving any playmakers, and not utilizing the center's talent, the Detroit Pistons failed to properly utilize Andre Drummond.