An Undefeated Season From the Defending State Champions
Even though the setting may have been different, Rochester Adams Cheerleading remained undefeated for their 2020-2021 season.
Coronavirus left a very different and difficult setting for every athlete. For cheerleading, it meant that all three of the tournament competitions would take place in one week, where in the past years, it was over the course of three weeks. But it was nothing the Lady Highlanders could not handle.
It started off as the Highlanders entered the district tournament just three weeks ago. The team went up against many talented and hardworking teams. Adams managed to dominate Stoney Creek and win by over 18 points. The team took home the district title for the second year in a row. 
"It was crazy. Winning by 18 points is completely unheard of in cheerleading. Then, repeating a district title on top of that. I could not be more proud of my team," said senior Olivia Ris.
Only four days later, the team competed at the regional championships. The Highlanders overcame Plym
outh, and took home the regional title for the second year in a row.
After finishing second in back-to-back Division 1 state finals in 2018 and 2019, Adams broke through to claim the state title in 2020. Now, the pressure to repeat a state title was nothing the girls worried about.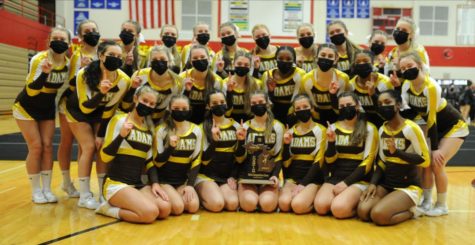 "We just want to go out on Friday and have fun. No nerves. No stress. We just want to soak in the last moments we have with each other," said junior Gigi Schultz.
The team headed to the Division 1 MHSAA State Championships on March 27, 2021. Adams posted the best score in all three rounds in the championship competition at Michigan State University's Breslin Center for a 790.52 total, nearly eight full points better than unexpected runner-up Grandville (782.60).
"We expected to win this year – that was our mindset," said Claire Crutchfield, one of seven seniors on the Highlander's roster. "Maybe we didn't think we'd win by that much, but we have been working non-stop since states last year and it paid off."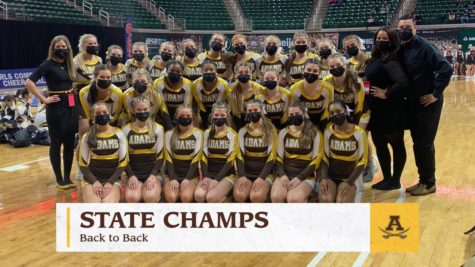 Rochester Adams ended their season undefeated. The team broke history multiple times this year. They once again won every tournament title, remained undefeated, and won back-to-back state championships. 
With 17 returning back-to-back state champions and four state champions, the team will continue to uphold the amazing legacy that the seniors are leaving behind.