When Will it End? MSU Mass Shooting Another Reminder of Needed Change
On February 13, 2023, students attending Michigan State University (MSU) in East Lansing, Michigan tragically fell victim to a school shooting resulting in three deaths and five severe injuries. The issue of school and mass shootings in America has grown increasingly worse and more apparent, with some MSU students having survived a second mass shooting.
The United States has a long and brutal history of school shootings, with one of the deadliest having been at Columbine High School in Colorado on April 20, 1999, with a total of 15 deaths (including the perpetrators) and 24 injured. Following this was an outcry for reform, as no school shooting had ever occurred on this scale before, so schools were unprepared and did not have the proper safety protocols in place.
"American schools and law-enforcement agencies have since transformed their response to a phenomenon now known as an 'active shooting,'" said Michelle Mark from Insider.
This new response includes school resource officers, who are school guards that try to identify potential shooters before a shooting takes place and have better defined instructions to follow in order to stop a shooting while it's happening. Schools have also incorporated active shooter drills, which generally consist of hiding in a corner of a classroom, shutting off the lights, and barricading the door until law enforcement arrives.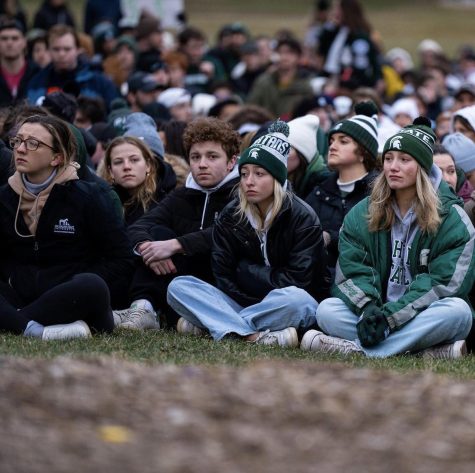 Prior to the MSU shooting, there was a school shooting at Oxford High School in Oxford, Michigan on November 30, 2021. Now, once again, the entire Michigan community has been shaken up by the attack on MSU.
According to CNN, the perpetrator of the MSU shooting was identified as 43 year-old Anthony Dwayne McRae, who had no connection to MSU. His attack caused the deaths of junior Arielle Anderson, sophomore Brian Fraser, and junior Alexandria Verner. Posted by @Impact on Instagram, and supported by CNN, USA Today, and Fox 2 Detroit, Anderson was working towards becoming a pediatric surgeon, Fraser was president of his chapter in his fraternity and was an active member in the community, and Verner participated in three different sports while also studying forensics. Each of these students had a story and a bright future ahead of them that was brutally and unjustly taken away. 
Afterwards, McRae was found dead by police from a self-inflicted gunshot wound. Unfortunately, common issues among preventing these perpetrators is that red flags are frequently ignored by law enforcement, evidenced by the Stoneman Douglas High School shooting, or there are not harsh enough repercussions put in place for offenses involving firearms.
"(McRae) had at least one previous weapons charge and an arrest from 2019," said Jeanine Santucci from USA Today.
Similarly, after the Oxford shooting, there was quite a deal of evidence that came out suggesting that the shooter, Ethan Crumbley, had been planning his attack for a while, yet there was not much done to prevent the attack.
"Mr. Crumbley allegedly plotted his attack well in advance, outlining plans in a journal and sharing his intentions in two videos filmed before the shooting," said Megan Sheets of Independent.
Clearly, an aspect of shooting prevention needs to include looking into every possible threat, which means taking them seriously, and to include background checks when selling guns to citizens, so those who break gun laws cannot purchase another after a gun offense.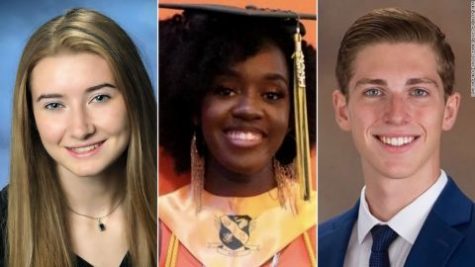 One of the most horrific aspects of the entire ordeal was that there were multiple students who had survived both the MSU shooting and a previous school shooting within their lifetime. For instance, 21 year-old Michigan State student, Jackie Matthews, posted a video to TikTok detailing how she survived the Sandy Hook Elementary School shooting in Newtown, Connecticut in 2012, which killed 26 students and staff. She was left with a severe PTSD fracture in her lower back from sitting in a crouched position for so long, which along with her emotional and mental wellbeing, has again been worsened by a school shooting.
There were also Oxford High School shooting survivors who lived through yet another mass shooting at MSU, such as student Emma Riddle, who, according to the Washington Post, was a close friend of Justin Shilling, a victim killed in the Oxford shooting. She took to Twitter to share her experience as a student in the Oxford shooting and now the MSU shooting, wondering how many times she will have to tell her loved ones goodbye in case she will never see or speak to them again..
The United States has now reached a point where students have been forcibly subjected to multiple mass shootings within such a short span of time, sparking outrage from students across the country. The MSU community came together on February 15 to hold a vigil, where Oxford shooting survivors spoke on a stage alongside legislators to call for immediate action. Junior Charlotte Plotzke also planned a march and rally on February 27 for gun control, as another attempt to advocate for reform and change.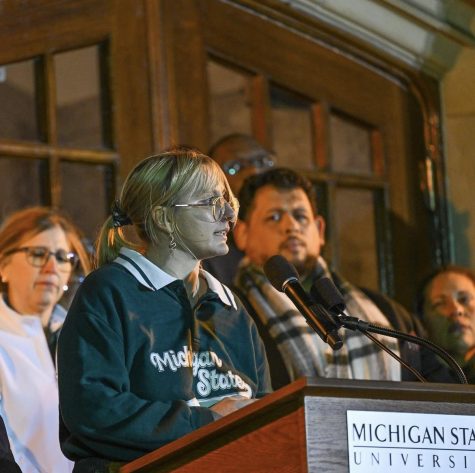 The unity of the MSU community has been a positive and beneficial way for students to help each other readjust to their return to school after the traumatic event that took place. It has also fostered a safe environment for students to speak their minds about this issue, which many feel very passionately about. However, this is likely not going to be enough on its own for change to happen. 
Despite the school shootings previously mentioned, and the others that have occurred in the United States before the MSU attack, not much major legislation has been passed or enforced to prevent these tragedies, which would largely consist of gun control. The New York Times highlights how these policies would have been beneficial in preventing attacks such as these.
Some would argue that having the right to own guns is important for self-defense, and that it actually lessens crime, as presented by Britannica. In spite of this, it cannot be denied that gun violence has, and continues to be, an extremely harmful issue for Americans, especially for young students, so there must be more done to prioritize the lives of students and staff over the access to deadly weapons.