The Willow Project: Animals vs. Economy
Economy versus nature has always been an American conflict. This is especially true for communities suffering economically and lacking job security. Conflict arises when a person is guaranteed by a politician that they could be offered a job on public land in exchange for the possibility of altering the habitat of wild animals.
That is exactly what occurred during the 2020 election. The Willow Project is supported by those who want economic growth in Alaska. The Willow Project, supporters say, will decrease the dependency of foreign oil.
"I urge the Biden administration in the strongest possible terms to listen to all the support for this important project. And I urge them to reject the false and misguided claims about impacts coming from some," stated U.S. Senator Lisa Murkowski (R-AK).
"No more drilling on public land, period," stated Biden during the 2020 election.
However, with the project possibly creating 2,500 construction jobs and 300 long-term jobs, Biden is now willing to compromise. The estimated tax revenue generated will be between eight and 17 billion dollars to the federal government and 180,000 barrels of oil per a day.
With all the positives that can be accomplished with the Willow Project, there are still some people who are opposed to it. The production of so much oil could cause 9.2 metric tons of planet-warming carbon pollution a year. The native population could be exposed to decreased quality of air and water. Even more concerning, polar bears could become extinct in 30 years as a result of drilling depleting their land, and Musk oxen, caribou, and migratory birds will be threatened.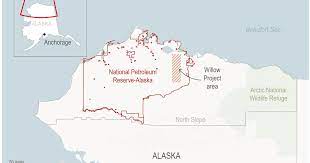 The death of innocent animals is damaging to the United States ecosystem, and tourism within Alaska. The death of innocent animals might be so severe that tourism in Alaska might suffer. Many animals are unique to tourists in Alaska, and a loss of them is a damage to the United States.
"The Biden administration is committed to fighting climate change and advancing environmental justice: today's decision to approve the Willow project falls short of those promises," said U.S Representative Alexandria Ocasio-Cortez (D – NY), a critic of the Willow Project, after President Biden's decision to support the project.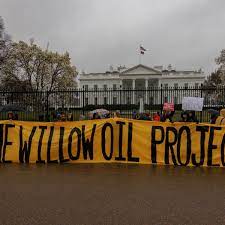 With Biden reverting from his promise to prevent the Willow project from moving forward, the only solution is for Americans to show opposition to the Willow Project. One organization, Change.org, has circulated a petition that 5 million Americans have already signed. However, unless more organizations can express concern and educate citizens about the environment, more drilling will occur on public lands.