The Future is Tesla
 Elon Musk and his Tesla team revealed the brand new 2021 Tesla Cybertruck at the Tesla Design Studio in Hawthorne, California on November 21st, 2019.
Billed as Tesla's futuristic take on the pickup truck, the Cybertruck has a very unique shape which stands out from its competitors. The truck's exterior is made from stainless steel alloy, the same metal Tesla has used for their SpaceX rockets. The interior of the Cybertruck has six seats, with additional storage underneath the back-row seats. It is complete with a 17" touchscreen that can be customized to the owner's desire. There are also lockable storage systems under the hood and the sides of the truck. 
Furthermore, the metal can withstand a nine millimeter bullet, making the car bulletproof. The bed of the truck has a retractable ramp, which can be used as support to remove, or place into the bed. The truck is able to change its height using the adaptive air suspension system.
"I think the design is fresh. We're entering a new era of technology and changing the way our vehicles look is a part of that. There are lots of interesting features like the bed and stainless steel exterior," said senior Dylan Blackmer.
In the Tesla Cybertruck presentation, Tesla Chief Designer Franz Von Holzhausen hit the truck with a sledgehammer, leaving no marks or dents on the side of the door.  However, moments later, the presenter threw a metal ball at the window, making a large crack. The windows were marketed as unbreakable, but ended up failing during the presentation.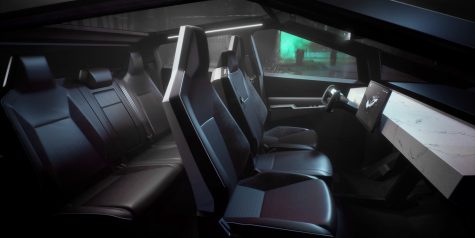 Musk stated the Cybertruck was stronger than a Ford F-150, and faster than a Porsche 911.  In the presentation video, The Cybertruck faced off against the Porsche 911. The Cybertruck won the race, reaching 60 miles per hour at 2.9 seconds and ¼ mile at 10.8 seconds. In addition, the Cybertruck's Tri Motor All-Wheel Drive is able to carry up to 3,500 pounds and can tow up to 14,000 pounds.
For the base model of the truck, the price starts at $39,900, while as the Tri Motor AWD model starts at $69,000, which is a cheap price for a truck. 
"I personally think the interior is very intriguing and appealing to the consumer. The option of having an extra seat in the front to sit another person is attractive and would make me want to purchase. In addition, the 17-inch touchscreen is something I've never seen before and would love to try it out. The Tesla truck options and features are very engaging and have desirable aspects that I would like to have within my car," said senior Evan Weinert.