Students Grading Teachers: A+ to D-
It is January and the first semester is coming to a close. For Highlanders, with report cards soon being sent out, getting assignments in and grades up is a huge focus. All students can think about is how their teachers are going to grade them this semester. What if teachers had to face the same stress and worry about how their students are going to grade them?
The topic of students grading teachers has been talked about more in high schools and colleges and is quite the debate. The idea is that students can grade their teachers on their skills and attitude in the class. When the marking period ends, students can submit these "grades" to the school, and from there, teachers will be able to see the grades and comments students left for them. This system could be helpful for high schools and colleges everywhere, allowing both students and teachers to improve.
At times, students and teachers tend to communicate poorly about how both are doing in the classroom. This idea of grading each other would help both approve in the future. After bringing this idea up to the students of Adams, the majority were surprised that this could be a potential option and even enthusiastic about it.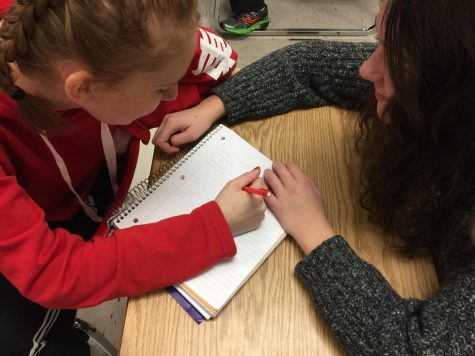 "I think that it would be a great idea [to have students grade teachers] so that the teacher will better understand what students find the most efficient. This system would be a helpful way to gain new information and from there adjust where they see fit," said junior Jasmine Cheng.
This system of grading would not only help out students and teachers in the classroom improve, it would also help district and state officials. If students were able to grade their teachers, and people higher up in the education board took a look at these "report cards", then the school system as a whole will be able to improve.
"Not only would teachers be able to better adapt to their student's needs, but people higher up would be able to evaluate these staffs. This system would work for everyone," said junior Ashlyn Koby.
Many would argue test scores and grades from student's report cards are enough to prove they are or are not learning from their teacher. An article published by The Atlantic about students grading teachers faces this argument head-on.
"Test scores can reveal when students are not learning; they cannot reveal why. They might make teachers relax or despair, but they cannot help teachers improve," said journalist Amanda Ripley.
The idea of grading teachers could eventually be used in schools all over the United States and Adams could be next. Many of the teachers here would receive an A while others could receive grades lower than their standards. Watch out teachers, an educational revolution may be taking place.