Spartan Town in Hot Water
The name Larry Nassar has been no stranger to the public over the past few months. The former gymnastics doctor has had 265 women come forward and claim that he sexually abused them.
Since Nassar's sentencing Monday, January 24, many have directed their attention to Michigan State University (MSU) for comments about the disgraceful doctor and the crimes he committed. According to the Lansing State Journal, Lou Anna Simon, the university's president, was once a respected women's rights activist, but has quickly flipped a switch. Simon is acting inappropriately about the case and is avoiding it to maintain her pristine and clean image.
"[She] has been cold and stubborn [toward the case], a public relations mess at a time when her community needs her voice most," said the Lansing State Journal.
Simon did not show up to all seven days of the case's hearing, which damaged her reputation even more. After many calls for action, the president ultimately ended up resigning. At this point, the public is completely outraged due to how the college has handled the overall case. It only seems fair for the university to own up to not only Nassar's mistakes, but also Simon's hesitation towards making an appropriate statement.
This story not only affects women all over the country, but high school juniors and seniors who are going through the college application process and are choosing which schools they would like to go to.
"I've never really favored MSU to begin with, so my thoughts on the school really have only decreased a minuscule amount. It just seems like they are trying to hide a lot [about the case]," said junior Jade Lazenby.
Nassar took advantage of women who were under lots of pressure to perform well and used his position in his sport to abuse hundreds of female athletes. When students were asked how this affected their opinion of the popular college, many described the disappointed feeling they felt.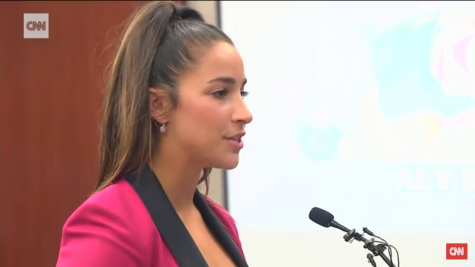 "[The Larry Nassar case] makes me upset for the whole school …I hope they figure this all out as soon as possible and that it gets cleaned up. Nassar is a disgusting human being," said junior Christopher Hebert.
More updates regarding all the gymnasts who were victims are coming in daily. The United States gymnastics coach and his team is currently under investigation by the National Collegiate Athletic Association (NCAA) in connection to the Nassar case. The demands for the popular college to release a statement is only growing. This injustice is not only affecting the victims and their families, but many of the students who currently attend the school. Will they ever give an answer and a proper apology to not only the residents of Michigan, but the entire nation? Many can only hope that they will.