School Field Trips: Where Did They Go?
Field trips can be a welcome escape from the classroom and are an exciting way to interact in a different learning environment. However, they have slowly dwindled over the years as the curriculum has become more rigorous and less about the fun aspects of learning. Adams mostly only offers school field trips for upperclassmen taking a foreign language or other electives such as ecology, and other students are missing out on the educational experience. Why eliminate an event that provides a fun and entertaining environment where students can participate in new and exciting activities? Field trips are a welcome escape from the rigorous schedules of the classroom and allow students the opportunity to partake in a different, more hands-on form of learning. They also grant for a change in scenery and exposure to new opportunities.
Field trips are only reserved for certain electives, but some juniors and even seniors have not had one since middle school. Some students feel they are missing out on the educational experience and believe that it is a fun way to explore different aspects of the community that they are exempt from behind the closed doors of the classroom.
"We should have more school field trips because it would give students more opportunities to become familiar with our community and is a fun learning environment," said junior Corinn Rittner.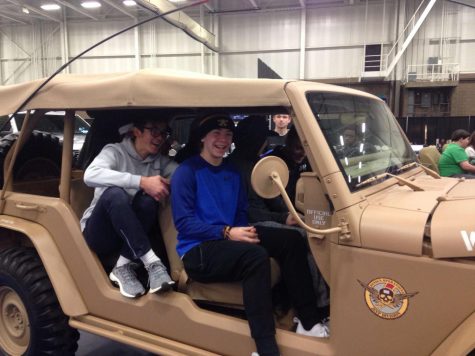 Not only do field trips provide a different and enjoyable learning atmosphere, but they also let students explore the cultural aspects of learning in new surroundings. Foreign language classes at Adams and other schools in the district do set up summer trips to foreign countries in relation to the language they are learning every other year. This makes it exciting for the students who receive the opportunity and are able to have the experience outside of school. Trips like these are some of the more costly and do need to be over an extended break from school, but there are many other opportunities for even core subject area classrooms, like English, that exist, and most kids would enjoy an opportunity to take a day or two experiencing something different in regard to education.
"Adams should have more school field trips because it would allow the students to get out of the classroom and learn in a more interesting environment," said senior Myles Chapman.
Sadly, field trips are increasingly dwindling in public schools because of an increased focus on testing and a lack of funding for these expensive trips.The experience of going to museums and exploring art and different aspects of culture is what makes field trips so exciting.
"Schools should try to acquire more funding for school field trips because they are great for a hands-on experience and to engage students with a different way of learning," said sophomore Elain Xu.
Field trips may be seen by some as just an excuse for students to get out of the classroom, but if Adams had more school field trips, it would help to enhance the learning environment, and in turn, make the students excited for a change in their monotonous schedules.