Roommate Apps: To Use or Not to Use
For ages, college roommates have been assigned at random. Occasionally students were able to fill out a questionnaire about simple preferences like the level of cleanliness they tolerate, or if they are a morning person or not. However, in the age of technology, roommates are being assigned by students themselves using online software services such as RoomSync to find their so-called perfect match. 
Apps like RoomSync essentially are a roommate dating app. Just like online dating, RoomSync has incoming students create a profile that includes information highlighting their academic majors, housing preferences, and a list of lifestyle questions in order to find someone of similar interest and compatibility. 
The most interesting feature on this app is the free-response questions at the end of a person's profile. RoomSync asks students to describe themselves and their ideal roommate in their own words, not based on a multiple choice questionnaire. The intent of this is to allow students to see personalities and qualities past mundane questions like "what time would you go to bed on weekends?"
RoomSync uses this data to give students the option to swipe left and skip students, or swipe right with hopes of a mutual match.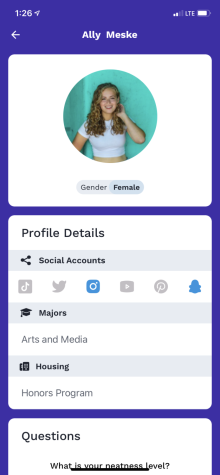 In theory this sounds amazing and revolutionary in the eyes of college freshman and parents who are floored by these new changes, but diving deeper into the app, it doesn't seem all that helpful. While students are personalizing their profiles, they often consider what others would look for and would like to see from a roommate rather than how the applicant truly is, because what roommate would swipe right on someone who puts down that they are very messy?
"I totally faked my rating on how messy I was on my roommate app. I just felt like no one would want to room with me if I said otherwise," said senior Alyssa Roehl. 
The results of this, as you can picture, are unvarying, uniform responses. Every single one is nearly identical. Almost every student in the description section portrays themselves as "pretty laid back but also outgoing" or "enjoys going out but also loves a night in". How are students expected to find an accurate match when all the answers are the same? 
"My university doesn't offer the use of a roommate app, but I honestly don't see the point in them offering it ever because it's hard to see who I would actually get along with and who I wouldn't," said senior Jacoby Flynn, a Kent State volleyball commit. 
This also poses the question of if going in blind is a better method when selecting roommates. While going in blind doesn't mean someone will be a perfect match with a roommate, it does encourage students to break out of their shell and meet new people on campus, besides the kids in your dorm. Many parents recall their college experience and mention that they hated their roommates but found other friends to bond with. 
As many are excited about the new changes and experiences college will bring, even with this new app or other ways kids attempt to find the perfect roommate, finding the right living arrangement continues to be a stressful experience for many college bound students.