Rochester Adams Lacrosse is Finally Allowed to Step on the Field
The covid outbreak the world is facing has impacted spring sports by postponing them for weeks. For safety measures, the 2020 spring season was officially canceled a month later. The Rochester Adams Lacrosse program was greatly impacted, but the virus did not stop them from getting prepared for the 2021 season.
During the off-season, the men's lacrosse team has been pushing themselves through weekly training. The workouts take place downtown, at the Rochester Avon Recreation indoor facility. These practices have been the only playing time the team has seen since the cancellation of the previous season. 
"Losing our last year makes it difficult to see what we are truly capable of and what we are up against. I believe the time and effort we have put in during this off-season will show out on the field," stated Adams senior, Billy Hart.  
The majority of the 2021 varsity lacrosse players are seniors, which helps with the aspect of experience. Also, many of the players have grown up either on the same team or competing against one another from program to program. 
"Since my first year of lacrosse in third grade, I have played on the same team as Patrick. Our ability to push each other at practice helps us in games," stated senior Jacob Corsi, about his past years of lacrosse with a close friend, Patrick Hodges. These past experiences overall benefit the team's chemistry. 
The 2019 lacrosse team, the last group to compete, broke a school record by making it the farthest in Adams playoff history. That team made it all the way to the league semi-finals, but lost to Clarkston 11-7. This year, many of the players feel that there is something to live up to.
 Head coach, Michael Torigglia, has pushed the junior varsity and varsity players to do their best after the program lost five seniors from last year's team putting a lot of pressure on . this year's seniors. After having years of experience coaching for Brother Rice's development team and other feeder programs, Torigglia took the role of head coach at Adams. Over the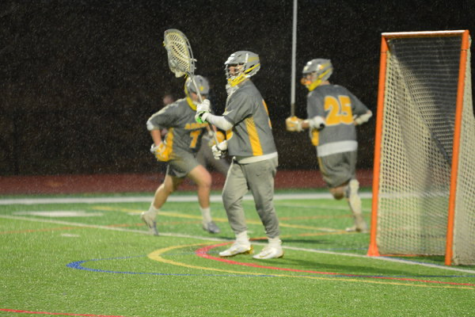 past few years, he continued the success of the program and hopes to build upon it. He believes both the JV and varsity teams will be very successful in the division they are placed in this year. 
This weekend the players and their families were brought together to celebrate how far the men's lacrosse program has come. The atmosphere was filled with positivity, which is vital to a team's success on the field. The players are already excited for the season and more than ready to lace up the cleats. Their spring season has finally come.