No More Mid-Day Snacks
Some students forget to eat breakfast or grab a snack, and rely on vending machines at school to give them energy until lunch.
However, Rochester Adams High School has closed vending machines during school hours. Some students are upset: Due to this recent policy, they can no longer grab a snack before school or between classes. An extra snack before lunch or after may have been the energy boost needed for some students. They may not have enough time to eat breakfast, and buying a snack from the vending machine may have been what they relied on.
The availability of vending machines throughout the day also helps profit the school with new school supplies and equipment. These inexpensive snacks are beneficial for students and the school. 
Senior Adrian Vazquez believes that vending machines should be open to students at any time of the day.
"I think they should have them open throughout the day. What is the point of having them if we can't use them? Vending machines profit the school and students as some people forget their lunch or breakfast and just want a small snack to get them through the day," said Vazquez.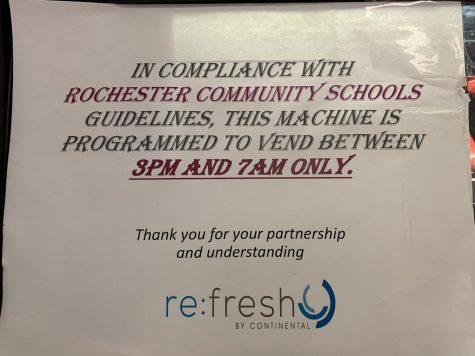 Vending machines are a low-cost necessity for students that need a quick snack. Although some options may be seen as unhealthy, high school students are old enough to be mindful and watch what they eat. A healthy snack between classes can help students remain focused in a classroom setting. After-school activities generally start right after school, and vending machines turn back on at 3:00 p.m. when the activity has already begun.
"I usually get hungry either before lunch or after and once the cafeteria closes then I just don't have food. I try to remember to bring a snack, but I forget sometimes, and I used to just get a granola bar from the vending machine, but that option was taken away," said junior Lauren Sellman.
Food is fuel for the body: allowing students the ability to grab a snack when they please shouldn't be that big of a deal in the grand scheme of things.