National Honors Society, Is It Worth It?
Thousands of elite high school students across America scramble and stress in the hopes they are academically superior enough to be accepted into the National Honors Society.
NHS recognizes the outstanding students at Rochester Adams High School who go above and beyond. Sophomores and juniors are eligible to apply and must demonstrate great leadership, service to the community, and scholarship. It gives students a greater advantage in the college application process to prove they are serious and intelligent. Nevertheless, students each have their own reasons for wanting to apply.
"I chose to apply because I think it is a great opportunity and experience. It also looks good on college applications. I did soccer coaching for my volunteering hours, I ran my cross country season, and Highlander marching band," said senior Elaine Xu.
Today, about one million students nationwide participate in NHS. The foundation not only recognizes students for their academic accomplishments, but it challenges students to be more active in their community. A required eighty hours of volunteering must be reached throughout a school year. Many students participate in community activities and volunteer in their school in preparation to apply. Once admitted, eight community service hours, eight leadership hours, and eight Adams hours are required to complete throughout the year.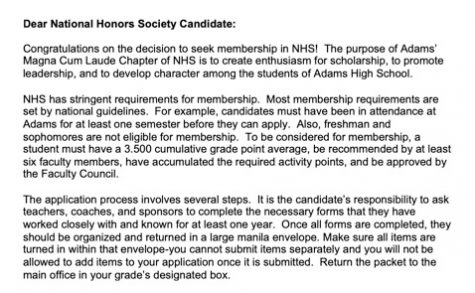 "For my hours I tutored students every week. I also did a lot for my church, and we do weekend retreats and volunteer work. I also play tennis for the school. NHS is really important to me; it will look great for college, and my parents really push me to work harder for things like this," said senior Roshni Mohan.
Ten teacher recommendations are also required, along with the eighty hours of service in order to get into NHS. Although, teachers can turn down the recommendation request. 
NHS can give students the extra push that a college is looking for; however, the amount of work needed to apply is outstanding and can only be accomplished by candidates who are most driven to succeed. Sophomores can be given another chance their junior year if they do not meet the specified requirements. NHS is not for everyone, but for students who are ambitious and aspire to be the best, joining NHS is the way to go.