MAN-i Pedi
Most men cannot say they have ever gotten a pedicure before.
Generally speaking, the idea of getting a pedicure has a rather feminine connotation. Beauty and cosmetic appearance is something that is stressed for females from a young age. However, this is not the case for most males. For some young men, beauty is not emphasized as much as other characteristics such as being a good athlete or an alpha-male. In turn, few are knowledgeable about beauty treatments and techniques they can use to improve their own appearance. A very common beauty practice that focuses on feet is the pedicure. It's possible that a majority of men would not be able to explain what a pedicure is if they were asked to.
"I know you get your nails cut. I'm not sure if they necessarily paint them," said junior Francesco Lochirco.
Most men do not know anything about pedicures, and that is exactly why I went out to get one for myself. Going into the experience blindly, I randomly selected a nail salon with good reviews and scheduled a pedicure. The nail salon I went to was Jolly Nails, located on 25 Mile Road and Dequindre. I was greeted promptly, and my roughly 30 minute session began right away.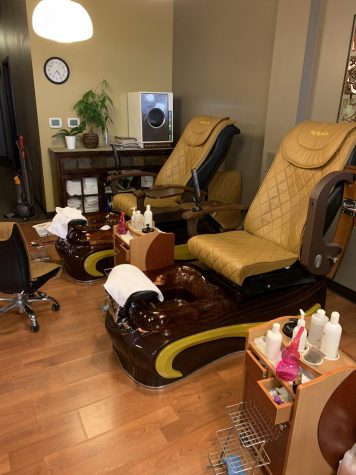 I was seated in the back where the pedicure chairs were and was asked to remove my shoes and socks. Next, I placed my feet in a tub of warm water at the base of the chair and let them soak for a few minutes. After the soak, the woman helping had me move my feet out of the water, and she began working. She scrubbed dead skin off of the entire bottom of my foot, clipped my toenails, gently cut back my cuticles, and finished the entire thing off with lotion and a massage. When she was complete, I put my shoes and socks back on and was directed to the register. My total came to $28 for the appointment, and I was able to pay with debit.
All things considered, the experience was a pleasant one. It was a nice break on my Sunday afternoon that allowed me to not only care for my body, but unwind and relax for a set amount of time. I was treated very kindly and the customer service was top-notch. The facility was well-kept, and I have no complaints with regards to comfort and amenities. The only problem I had was with the fairly steep price. $28 seems like a high price to me for only about 30 minutes of work. However, taking into account the positive experience I had, I can see why some people may find the price justifiable. I would personally recommend a pedicure to any male, regardless of his knowledge on beauty care. It was calming, the employees were very friendly, and I was able to groom myself in a way I never had before.