Is Tiktok on the Chopping Block?
TikTok, a Chinese social media app that has garnered immense popularity in the United States, may be in danger of regulation or removal from the American market in the coming months. To understand the grounds for these actions, one must first look at the contentious history of TikTok's three years in the US.
Started under the name Douyin, Chinese company Bytedance created an application that allows its users to record short videos accompanied by music. The app was styled off of the hugely successful, six second video service Vine. By the time Douyin launched in China (September 2016), Vine was near the end of its lifetime and was subsequently shut down in December of that year. The departure of Vine left a vacuum in the social media market, and various competitors sought to fill its short video niche. Another Chinese startup, Musical.ly, grew to popularity at this time with their app where users could lip sync and dance to their favorite songs. They reached 200 million active users in 2017. At this time, Douyin transitioned into the American market and changed its name to TikTok.
TikTok achieved moderate success with around 13.5 million downloads in Quarter 3 of 2017, but its usage skyrocketed after its parent company, Bytedance, acquired Musical.ly in November 9, 2017. The companies later merged in August 2018, and TikTok incorporated many of Musical.ly's features and all of its users. The app has been growing at an astounding rate and now has over 1 billion downloads and 500 million active users. 
Through TikTok's rapid rise, the app has been mired in controversy over its connection to the Chinese Government. One recent case occurred in November 2019 when American user, Feroza Aziz, was removed after posting a video critical of Chinese treatment of their minority Muslim Uighurs. This case brought concerns that Chinese censorship policies would carry over and apply to Americans and their social media. TikTok even concealed content from overweight and LGBT users though they claimed it was to protect them from cyberbullying. 
Privacy is another worrying aspect of TikTok's Chinese origin. Parallels have also been drawn between the face-tracking filters of Tiktok and the face recognition software of the Chinese Government surveillance program. Also, the use of data has been called into question. According to their most recent Privacy Policy, TikTok's user data (including location data) may be given to their "parent, subsidiary, or other affiliate of our corporate group (Bytedance)" or to "government inquiries". Considering that the Chinese Government is heavily involved with their country's companies, government inquiries could potentially take Americans' personal information.
As a result of these concerns, the US Army has joined the Navy in banning the use of TikTok on government-issued phones. As well as the military, many leading members of Congress, including Senators Marco Rubio (R-Fla.) and Josh Hawley (R-Mo.), have called for TikTok to testify before Congress and expressed interest in possible regulations. 
With the culmination of these factors, TikTok may soon face a rough 2020.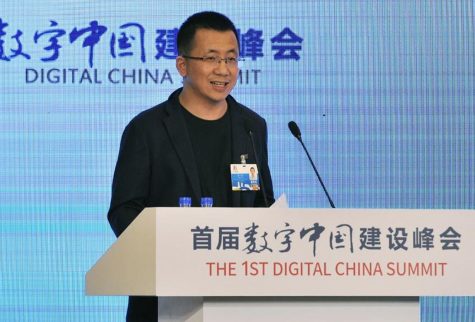 This may be a concerning time for TikTok users at Adams. In a survey of more than 30 Adams students, over 75% have used Tiktok.  Rayyan Khan, an Adams senior with over 80k views on the app, stated that he thinks "It's a great social media platform for people to express themselves, however, it is a little frightening how much information TikTok has on its users, and what they do with it." 
Senior Zack Gross has a different concern with TikTok. "I like watching funny videos, but I tend to lose track of time and spend longer than I wanted to," said Gross.
The US has shown its power to regulate foreign companies before when it banned Chinese tech giant, Huawei, on charges of stealing intellectual property. TikTok could soon be next.