Everything You Need To Know About Disney+
From Star Wars fanatics to Disney princess enthusiasts, Disney+ has everything viewers could want from a streaming service. 
In September 2017, Disney announced plans to create its own streaming video service to challenge Netflix, Hulu, and similar high-end streaming. Just over a year later, that service was dubbed Disney+, and consumers got their first look at the service in all its Disney-fied glory, as well as its price point of $7 per month, and a launch date of November 12 at midnight in the U.S. On the first day the streaming service opened, about 10 million users subscribed.
What is Disney+?
Disney+ is a streaming service that has a wide variety of shows, movies, original series, and more. The service is split into five different categories, Marvel, Pixar, Star Wars, Disney, and National Geographic. Each category has a range of different movies and shows from the given franchises. The two highest-grossing films of all time (Avengers: Endgame and Avatar) are in the streaming service and ready for any subscribers to watch.
For fans of Star Wars, Disney+ contains every movie in the famed trilogies, besides Star Wars: The Last Jedi and Solo: A Star Wars Story, but they will be added soon. The brand new original series, The Mandalorian, directed by John Faverau, has been long awaited from the Star Wars fandom. As mentioned earlier, most Marvel movies are in the streaming service, besides those that are too new and/or involved with other contracts. Both Tom Holland featured Spider-Man movies, Spider-Man: Far From Home and Spider-Man: Homecoming are not featured on the series. Although it is not known why these are not on Disney+, it may be because of the contract disputes between Disney and Sony. Disney+ is the perfect streaming service for those who love these companies' movies and television series.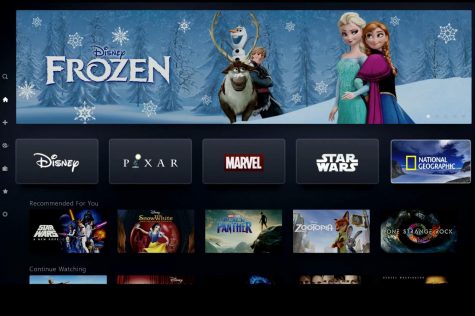 How much is it going to cost?
The price of Disney+ is 6.99/month or 69.99/year. There are other options for paying for the service, though. There's also an option to buy a bundled package with Hulu and ESPN+, which costs $12.99 per month for all three services. Individually, the ad-supported version of Hulu is currently $5.99 a month, and ESPN+ is $4.99 a month. If viewers haven't explored the world of streaming services fully yet, the bundle could be the perfect opportunity to do so for a competitive price. If the prices of all three services, or just the Disney service alone, seem too expensive, then there is another possible option for you. First, Disney+ started giving away a free year of its TV service to new and existing Verizon Unlimited wireless subscribers as well as new Fios Home Internet customers — now US Mobile has jumped on the bandwagon, too. US Mobile is offering free Disney+ to customers with three or more lines of service as part of a package deal that includes other free subscriptions to various entertainment services, including Apple TV Plus and Xbox Live. 
So, if you are interested in Disney's new streaming service, there are many options for you to try and save as much money as you can, as well as many options of shows and movies to watch. Disney+ has a great variety for the whole family with many shows, movies and documentaries to choose from.