Benefitting the Bank and the Body
Having extra cash is always desired. How are young kids without a high school diploma supposed to do that? Lifetime Fitness may be the answer they´re looking for.
Rochester Hills and Troy Lifetime Fitness are hubs of employment for Adams students. Almost a dozen students from Adams alone work part time at one of these locations. Lifetime has multiple different departments for which it hires minors, including Aquatics, Kids, and the Life Café. 
The Aquatics Department handles anything on the pool deck. Swim instructors and lifeguards work to ensure safety while members are swimming or hanging out by the pool. The kids department focuses on activities and events for young members. This includes children's parties, weekend special events, and daily childcare in the Child Center. The Life Café includes working in Lifetime's healthy cafe or out on the outdoor pool deck in the summer for the seasonal bistro.
Learning the ropes of a minimum wage job is a crucial life skill and something very beneficial prior to joining the workforce in adulthood; in college or after. Kid's Department Head David Bonney explained his take on hiring high schoolers: 
"I typically like hiring teenagers, but sometimes it can be a bit of a gamble, especially if it is their first official job, to see if they can handle adding a job to their already busy life. But more often than not, the high school students who want to have jobs are motivated to make it work and prove themselves, and they ended up being fantastic employees! Having a job is awesome as it teaches responsibility, financial independence, and most of the time management because often times they have a lot of things going on between school, sports, clubs, college apps, social life, et cetera. Overall, the experience of hiring teens has been really positive. Most teenagers are quick learners and as long as they are trained well and have a good attitude, they will do a great job" said Bonney.
Bonney sees great value in hiring teens for his team. At the Rochester Hills location there are six high school students currently. Many other employees were high school students and now have graduated and attend college nearby. Others are seasonal workers if their school is too far to commute. Yasmine Zadeh, an Adams senior, works in the Child Center and expressed her appreciation for the position,
"I have always loved kids, and I value exercising, so working at Lifetime was the perfect job for me. Even though I have a lot of school work, it can sometimes be difficult finding a balance between school, work, and life, but at the end of the day, having a job helps prepare you for the future and learn the importance of time management," said Zadeh.
Another Adams Child Team Member, Raayed Saeed, is a coworker of Zadeh and has a similar viewpoint on the job. He appreciates the team work and professional skills he has learned thus far.
"Working at Lifetime has been great so far. I went there 4-5 times a week and saw they were hiring, so I decided to apply to make some money to spend on myself. Working with kids and cleaning up have been decently good life skills, but having to communicate with others and work as a team is really what I consider to be something valuable I've learned to do at work in a professional environment," said Saeed.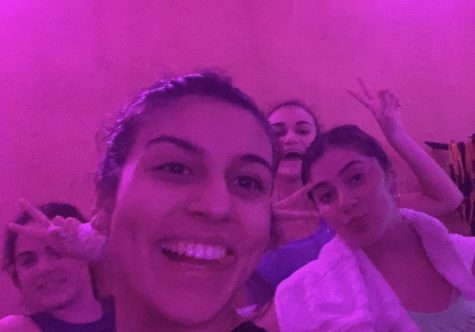 Saeed was already a Lifetime member and saw an opportunity to make some extra cash after seeing an advertisement for a job fair. Zadeh took a slightly different approach. She heard from a friend about the position then took it upon herself to do some additional research online to see whether they were hiring.  
Lifetime Fitness has been great for Adams students, and they are excited to continue their work as the school year comes to a close, and they can start working full time before the fall semester. Bonney plans on keeping college students as seasonal workers and continuing to add young members to his team with their enthusiasm, good attitude, and motivation.