Are Relationships Being Defined by TikTok Trend?
It's almost guaranteed that those that have TikTok, have seen the viral "Mascara Trend". Set to the sound "Constellations" by Duster, #MascaraTrend has 167.6 million views. Users compare a significant other to a tube of mascara as a way to either display affection, confront past or present romantic relationship problems. 
The majority of women (though some men post as well) using this sound, explain their past experience with said "mascara" and the positives and negatives that come out of their relationship with it. For example, many TikTokers explain their fears of getting hurt again and the amount of trust they have lost due to previously failed relationships. 
"I found the best mascara ever, but it changed and made my lashes completely fall apart, and now I don't know if I'll ever trust any other mascara," said user @kayleeavemealone.  
Even TikTok influencers and celebrities have taken a stab at the trend. Influencer Anna Sitar, had her own spin on the trend, explaining that people (specifically women) look beautiful whether they have mascara (a boyfriend) or not. This double meaning refers to a boyfriend/significant other, but also how women look wearing as many cosmetics as what is deemed acceptable in today's society.
"I think you look beautiful with or without your mascara :)," wrote Sitar on her TikTok with the caption: "this trend is cute but here's a little reminder :)". 
While there have been many code words for different relationships on TikTok before, this one in particular seems to be raising a multitude of questions. Many seem to be asking "why don't these users just explicitly say what they're referencing?" While this is a legitimate concern, people should be more concerned about the topic they are referencing.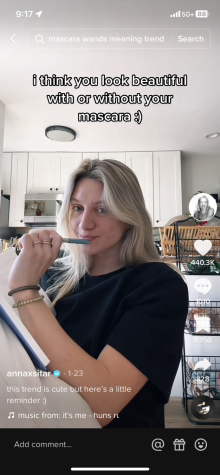 TikTok is an extremely censored app, taking down many videos with any alleged inappropriate words or comments, so the use of code words is a must. By not addressing the relationship with "mascara" explicitly, it leaves a sense of mystique and entertainment to the viewers, which in turn gets TikTokers more views and likes. This poses the real question: In order to get TikTok famous, do you need to be in a relationship?
There are many ways people go viral on TikTok, and every person has a hook, or something eye-catching that makes people stop scrolling though their For You Page to watch. Lately though, it seems that people are looking for the same thing: The perfect tube of mascara or the worst story about mascara as a way to go viral. What was once a funny trend was taken too far, relying on others to make one famous.
It's predictable that this trend will eventually end, but no doubt another that taps into people's emotions and insecurities will emerge soon.