Adams Got Talent
Adams holds its annual talent show this year on December 17th! 
Students will be able to showcase any skill of their choosing. Skills can vary between stand up comedy, dancing, singing, or anything a student wants to showcase. Auditions will be held in the auditorium on Dec 13th. The chairmen of the function, Jade Vargo and Claire Donohoe, have taken the reins on this function. 
Vargo generously provided her insight on the event in the interview below.
Q: What kind of performances have happened in past years? What can we expect to see at this years show?
A: "A variety of performances: Musical acts consist of mostly singing, but there are also group bands, as well as dances, and instrumental performances. This year we are  also expecting poetry and the return of a stand up comedian" said Vargo.
Q: What does a student have to do a try out?
A: "Auditions are simple: All they need to do is show up! All talents are welcome- it is important the students have a space to share whatever they want and are passionate about"
Q: What teacher is coordinating this or is it fully student run?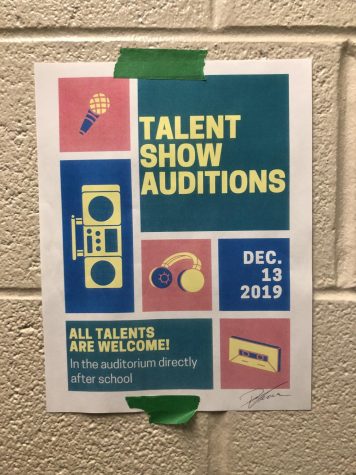 A: "The talent show is student organized, but would not be possible without the help from the Adams Tech Team and Theatre Department"
Q: Are there any restrictions regarding performances or does anything go?
A: "Since all talents are welcome, there are not any cuts unless an act is disrespectful. Modifications of an act or music choice are more likely than a full cut."
Q: Anything else you would like to share?
A: "We are so excited to see where the talent show goes. Graduate Leighann Heim, who started the talent show, did not think it would continue after she left Adams, but we are excited the demand was strong enough to bring it back and create a space which recognizes talents within the school."
Although Leighann Heim may no longer be here, the Adams Talent Show still is. There are few restrictions on acts, so any fun ideas can be proposed to Vargo or Donohoe prior to try-outs. Students need to make their way to the stage on December 13th, before it is too late, and the casting list is finalized.