School Lunches? Trifling.
From pizza with cheese that slides off like a bad wig, to Sahara desert-dry chicken nuggets, school lunches will have its good days and bad days. For years, students all over the nation have purchased or received free or reduced-lunch. Students expect a delicious and nutritious lunch, right? There was a time not too long ago that kids loved the lunches being served at school, but unfortunately, they were deemed unhealthy. According to the Center for Disease Control, one-in-five children are obese. This may be one of the reasons school lunches have become an unappetizing experience, which is why many children nowadays bring bagged lunches from home to escape the tragedy that is school cuisine.
The "healthy" lunches started as a result of former President Barack Obama's signing of the Healthy, Hunger-Free Kids Act, an act meant to improve lunch quality for students. Ever since this act was implemented into school policy, lunches may look healthier in appearance, but they definitely don't taste better.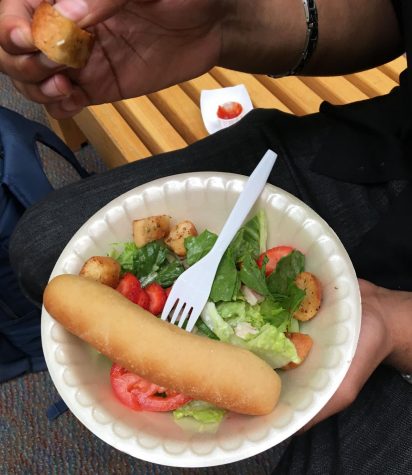 Claims made about current lunches are that better quality school lunches improve cognition and physical development, which play an important role in learning. But, students will not be able to perform well if they are not willing to eat the "healthy food". Kind of like Bikini Bottom without Spongebob, pointless.
There's no debating that healthier food is better for people, but until schools decide that better food means happier people, kids will still be unhappy and won't eat the healthy food.
"I've eaten the school lunch once, and it was just terrible; never again," said senior Brennan Walsh.
Walk through many of the cafeterias in a public school that have made the switch to "healthy" food, and check out the plate of eggs or a batch of fried chicken nuggets. Chances are, the eggs or the nuggets don't appear like real food. It is simple. The food is not legit, and at the same time needs some seasoning. No person wants to bite into a burger that tastes like burnt crumbs and depression. Flavor, something Adams lacks, is the major component into making any meal desirable.
Here's a little advice for schools: use kids to taste-test the food, making sure it is full of flavor; maybe the students would like it better.
"Foods good. Service is great. "Don't like the bread. It's wheat," said sophomore Jack Santella.
Regardless of whether the kids like the food or not, it is ridiculous how much money the food industry is making off of students while providing so -called "healthy" meals. Although healthy school lunches today are intended to substitute its' former junk food counterpart, change still needs to be made with the actual quality and flavor of the food, not just the health benefits of the meal.