Pokemon Direct
Computers, phones, and tablets suddenly blare to life as the countdown begins. Fans from all across the world come together to watch a simple video game announcement or as Nintendo calls it "a Direct". 
However this isn't just any direct, this direct is set to feature pokemon only news. With the current youtube video having over 2.4 million views' will the announcements capture fans excitement, or will it escape with disappointment? 
The direct started at 9:30 a.m. and opened with the announcement of Pokemon Mystery Dungeon DX, A welcoming surprise to fans of the series since its last release on the Nintendo 3ds in 2015. Pokemon Mystery Dungeon DX is a remake of the original two Mystery Dungeon games: Red Rescue team, and Blue Rescue team. Mystery Dungeon is different from traditional pokemon games, in that instead of catching Pokemon the player themselves is a Pokemon. Now it's up to the player to explore various dungeons, and figure out how they ended up as a Pokemon in this new Pokemon filled world. The game is set to release on March 6th, 2020, and the games demo was released right after the announcement allowing players to go through the first main chapter, and play through various side quests. The demo is about an hour and a half and gives fans a glimpse of what they can expect from the full release. 
Along with the Mystery Dungeon reveal Nintendo showed a trailer revealing dlc for Pokemon Sword and Shield. This is the first time Pokemon has done this, as with previous entries Nintendo would release two games, and then release a third version of the game, acting as a more definitive version. With the dlc, players will gain access to two new locations: The Isle of Armor and The Crown Tundra. After the reveal trailer Nintendo went into more detail on what was shown. Firstly, they covered The Isle of Armor, a tropical island in which players will train and work hard to catch the new legendary Pokemon. Next was The Crown Tundra set to take place in an icy mountain region, focusing on exploring the land and the mysterious new Pokemon lurking within it.
The Pokemon Sword and Shield dlc will cost $30 and will be released separately with the Isle of Armor set to be released around June 2020, and the Crown Tundra is set to be released somewhere around Fall 2020. With the release of pokemon's first dlc, many fans are eager to see what else the Galar region has in store and are excited for the return of many previously cut pokemon. However the dlc has also left fans feeling skeptical asking why this content wasn't included with the base game. Along with that, why are certain Pokemon only now getting added in? 
"Personally, I think the dlc is a good idea, as it is less expensive than getting a straight up sequel, and it even retains your old save data, so that's a step up from usual.  I hope they bring back more Pokémon though," said senior Evelyn Mulroy.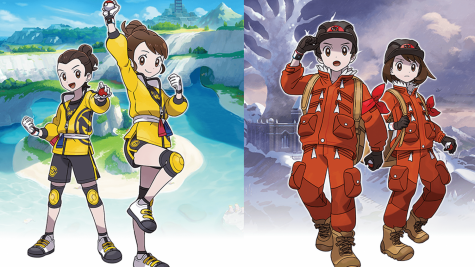 Overall while the dlc is leaving some fans worried, most are willing to give it a shot; after all, this is only the announcement. Along with that, Pokemon's Mystery Dungeon feels like a nice change of pace. With this news, and potentially more on the way, it feels like a good time to be a Pokemon fan.