"Look What You Made Me Write" The Story behind Taylor Swift's Hit Single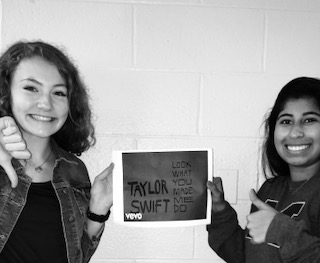 The old Taylor is dead! Taylor Swift's highly anticipated new song, "Look What You Made Me Do" is breaking records and sparking questions. The most widely-accepted belief for Taylor's writing, "Look What you Made Me Do" is about her beef with Kanye West, Katy Perry and Kim Kardashian West.
Swift and West's ongoing feud dates back to 2009, after he interrupted Taylor during her acceptance speech at the Video Music Awards.
"Yo, Taylor, I'm really happy for you, I'mma let you finish, but Beyoncé had one of the best videos of all time! One of the best videos of all time!" said West as he jumped on stage in an apparent protest against Taylor's win.
As if this fiasco was not enough to spark a feud between the two celebrities, West and Swift had another falling out later in 2016 about an explicit lyric in Kanye's song "Famous".
"Look What You Made Me Do" has lyrics like "Don't like your tilted stage," referencing West's tilted stage during his Saint Pablo Tour. Another lyric that is throwing shade at the rapper is, "I'm sorry, the old Taylor can't come to the phone right now," touching on the controversy between Swift and West in 2016, where West publicly exploited Swift by releasing a call between the two. However, Swift is speaking about how she approves of West putting the explicit lyric in the song.
Swift's song has attracted a lot of attention at Adams as well. For students that are interested in her genre of music, her switch from country, to pop, and now to punk rock came as a shock to many fans.
"I think it's terrible. She's like a totally different person now," said Adams sophomore Emma Flowney.
While some cannot stand this new jam, there also people who like it. After the original shock wore off, "Look What You Made Me Do" soared to the top on charts and became number one on iTunes.
"I didn't like it at first, but then once I listened to it more, it's really catchy" said junior Kaitlyn Petrosky.
Swift also reeled in the attention of Ellen Degeneres. Degeneres created a spoof of the "Look What You Made Me Do" music video. Throughout the remake, it features Ellen dressed up in the same outfits as Swift, poking fun at the lyrics.
"It's really funny and clever," said junior Brenna Swiftney.
Spinoffs like Degeneres' video have shone new light upon the song, causing it to become an internet sensation. Whether music fans find the song appealing or not, they can at least find humour in the way the tune is being used in other forms.
Overall, Swift's sudden musical comeback, although somewhat controversial, has triggered a hot new topic in pop culture. For anyone following Swift's future aspirations, ask: what the world will make her do next?