Pedaling to Success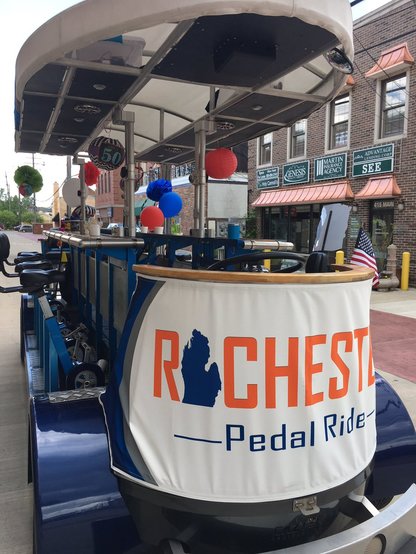 Looking for a fun tour of Rochester given by a teacher? Rochester Pedal Ride is for you!
It is commonly known around Rochester Adams High School that the "bike" of Downtown Rochester, formally the Rochester Pedal Ride, is owned by Social Studies teacher Bryan Lindstrom. Lindstrom employs local teachers to drive it, including economics teacher Tim Mullins and history teacher Jack Beall. These teachers act as tour guides for out-of-towners, as well as locals, around the historic city of  Rochester. Riders have the opportunity to choose their own locations, as well as play their own music (assuming it is appropriate). 
Rides are about two hours, and entail stops at places such as Paint Creek Tavern, Park 600, City Tavern, Main Street Billiards, Cupcake Station, and many more. The bike has a capacity of 15 people, with ten pedaling seats and five non-pedaling seats. Riders are expected to pedal themselves around Rochester, so pedaling hard is an unspoken requirement of the trip. 
"They pedal for about 20 minutes, then stop at a local place for about 20-25 minutes, then get back on the bike and pedal for another 20 minutes. They make another stop for 20-25 minutes, and then finally pedal for 20 minutes or so, then head back to the unloading zone (behind Bizzy Bee Artisan Market) to finish the ride. You'll go through and around Rochester for a total of about 3-5 miles," said Mullins.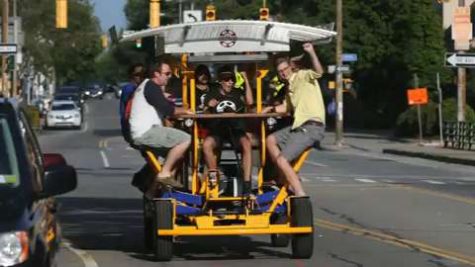 One of the biggest marketing campaigns for the Rochester Pedal Ride is actually the bike itself – Many people have seen the bike going around Rochester and want to take it for a ride themselves.
"I've seen the pedal bike around downtown and have always thought it looked really fun! I've never gotten a chance to ride, but I would definitely be interested, especially if Mr. Mullins is driving!" stated senior Jack Snook. 
Although quite new (established in 2017), the Rochester Pedal Ride provides a fun twist on touring the local city. For only $299 ($399 on Friday/Saturday), riders can get a two hour riding experience.